Holiday Wreath Sale & Open House
Saturday, December 1, 2018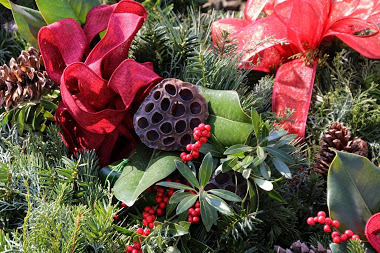 Description:
Ring in the season with local greenery for a beautiful Eastern Shore holiday! Shop for handmade evergreen wreaths crafted from the bounty of the Arboretum's forest and gardens. Find the perfect gift in the gift shop or in Paul and Irene Aspell's pop-up art and pottery shop. To volunteer to craft wreaths, contact Kathy Thornton at kthornton@adkinsarboretm.org or 410-634-2847, ext. 33.

Several programs are offered during the day:

First Saturday Guided Walk at 10 a.m.

Gingerbread House workshop with Food Network-renowned Chef Steve Konopelski at 1 p.m.

A family-friendly O Wildlife Tree, O Wildlife Tree program at 2 p.m.