Holiday Wreath Sale & Open House
Saturday, December 1, 2018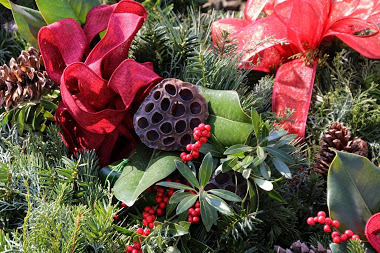 Description:
Ring in the season with local greenery for a beautiful Eastern Shore holiday! Shop for handmade evergreen wreaths crafted from the bounty of the Arboretum's forest and gardens. Find the perfect gift in the gift shop or in Paul and Irene Aspell's pop-up art and pottery shop. Special treats include homemade baked goods and a demonstration by local wildlife artist and master falconer Jonathan Shaw, who will share some of his trained raptors and answer questions about the ancient sport of falconry, which dates back to 2000 B.C. Jonathan will be at the Visitor's Center from 10:30 to noon with bb8, his four-year-old Harris's hawk, and Gyronimo, his white Arctic Gyr falcon.

To welcome the season, we're offering free admission all weekend long.

Several programs are offered during the day:

First Saturday Guided Walk at 10 a.m.

Gingerbread House workshop with Food Network-renowned Chef Steve Konopelski at 1 p.m.

A family-friendly O Wildlife Tree, O Wildlife Tree program at 2 p.m.