Current & Upcoming Exhibits
---
The Arboretum hosts an ongoing exhibition series of artwork on natural themes by regional artists, as well as an annual juried show held in February and March of each year and an outdoor sculpture show during the summer. 
---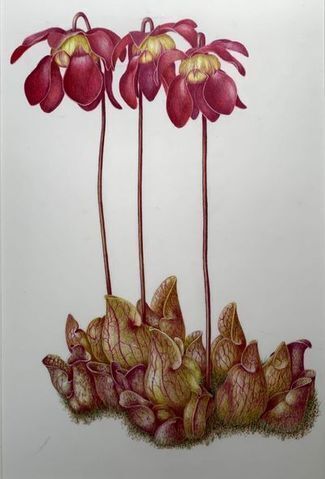 Current Exhibits
Anna Harding
Wake Up...We Need Everybody
July 5–September 3, 2022
Botanical artist Anna Harding's exquisitely detailed colored pencil drawings are astonishing for their rich colors and almost photographic detail, but they also have a message. For her show, this Easton artist chose to draw an array of plant, bird, animal, and insect species that are indigenous to the Chesapeake region and identified by the Maryland Department of Natural Resources as threatened, endangered, extinct, or extirpated. Reception: Saturday, July 9, 2–4 p.m.
---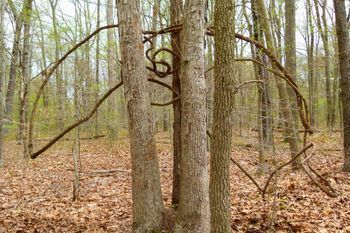 Howard & Mary McCoy
Re-Vision
May 3–September 30, 2022

Whenever they are in the Arboretum's forest, environmental artists Howard and Mary McCoy are on the lookout for places that might inspire them to make art. For more than 20 years, these Centreville artists have been making art in the woods, using the materials they find there. Inspired by nature's own creativity, they alter or augment the trees, vines or fallen branches they find there, creating sculptures that are so close to nature that they will make you do a doubletake. Their site-specific sculptures will be on view along the Arboretum's trails. There will be a guided sculpture walk in conjunction with Kit-Keung Kan's reception on Saturday, June 4 from 2 to 4 p.m.
---
Upcoming Exhibits
---
Virtual Exhibits
With the Visitor's Center closure in 2020, we shared works virtually from the artists scheduled to exhibit. Click an artist's name to view the exhibit.
---
If you are an artist interested in exhibiting at Adkins Arboretum, please email 6–12 digital images of your work and a resume or letter of introduction to the attention of the Art Committee at info@adkinsarboretum.org, or mail this information to Adkins Arboretum, 12610 Eveland Road, Ridgely, MD 21660.