Current & Upcoming Exhibits
---
The Arboretum hosts an ongoing exhibition series of artwork on natural themes by regional artists, as well as an annual juried show held in February and March of each year and an outdoor sculpture show during the summer. 
---
Current Exhibit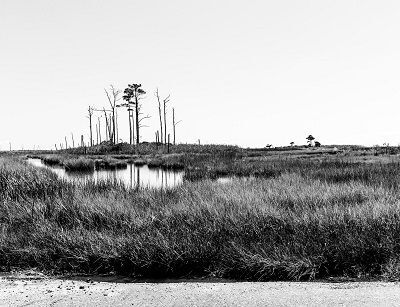 Geoff Delanoy
Ghost Forest
November 1–December 23, 2022
Hauntingly beautiful, these richly toned black-and-white images present stands of loblolly pines bare of needles and branches and lonely stretches of marshland. In this show, Delanoy documents the impact of climate change on the landscape of the Chesapeake Bay watershed, particularly the coastal forest diebacks known as ghost forests. There will be a reception to meet the artist on Saturday, November 12, 2–4 p.m.
---
Virtual Exhibits
With the Visitor's Center closure in 2020, we shared works virtually from the artists scheduled to exhibit. Click an artist's name to view the exhibit.
---
If you are an artist interested in exhibiting at Adkins Arboretum, please email 6–12 digital images of your work and a resume or letter of introduction to the attention of the Art Committee at info@adkinsarboretum.org, or mail this information to Adkins Arboretum, 12610 Eveland Road, Ridgely, MD 21660.