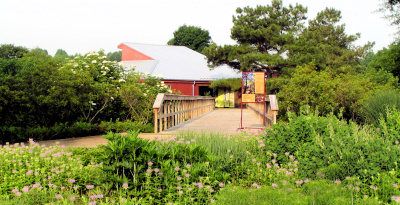 Begin your visit at the Arboretum Visitor's Center. Here staff will orient you to the Arboretum's site, providing maps of the grounds, brochures about what to see along the walks, information about what's in bloom, and the schedule for guided walks. You may watch the orientation video or borrow an audio tour here. Display racks feature literature about the Arboretum site and special programming. For further information about the availability of guided walks, call 410-634-2847, ext. 0 or e-mail info@adkinsarboretum.org.
Visitor's Center hours are 10 a.m. - 4 p.m. Tuesday through Saturday, noon - 4 p.m. Sunday. The Visitor's Center is closed Thanksgiving Day and December 24 through 31. Admission is $5 for adults, $2 for students 6-18, and free for children 5 and under and Arboretum members.
---
Art Gallery/Meeting Room
The Visitor's Center meeting room houses art exhibitions throughout the year, and serves as a meeting room for various workshops, seminars, and meetings.
---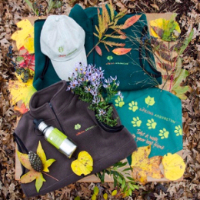 Arboretum Gift Shop
The Arboretum Gift Shop is the perfect place to shop for unique nature-related gifts. Peruse a special collection of gifts, clothing, books, children's items, jewelry, handmade soaps, scarves, pottery, stationery, Arboretum logo items, and birdhouses. Garden statuary, implements, and tools, including Felco pruners, are also available.
Arboretum members receive a 10% discount on purchases. Click here to learn more about membership benefits.
---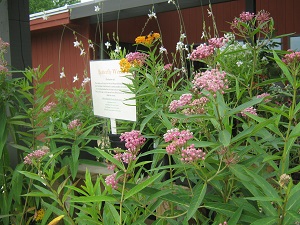 Plant Sale Area
A selection of native plants is available for purchase under the Visitor's Center pergola during the growing season. Arboretum members receive a 10% discount on plants, and members at the Contributor level ($100) and above receive a 20% discount. Native greens are also displayed during the Arboretum's annual Holiday Wreath Sale in December.
---
Library
Visitors are invited to browse a collection of over 700 volumes of environmental, gardening, educational, and children's books in the Arboretum's library, located in the Visitor's Center lobby. Members have borrowing privileges and the general public is invited to browse.