NATIVE TREE OF THE YEAR
Adkins Arboretum's Native Tree of the Year Program highlights the ecological and
ornamental value of native trees to promote their protection in natural areas and
use in cultivated landscapes.
2018 Native Tree of the Year: Sassafras (Sassafras albidum)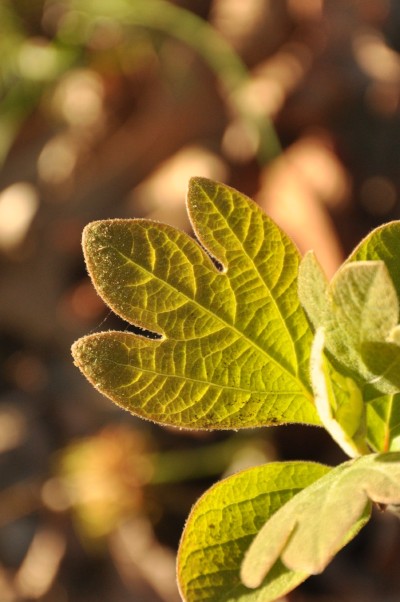 Flaming orange and red in the fall, it's hard to pass this fiery tree by. Sassafras is a timeless native tree and was one of the first plants shipped back to Europe from the New World. In 1565, Francis Drake was said to have returned to England with sassafras roots, which by the next century was on par with the value of tobacco. 

In the Laurel family, along with bay and spicebush, sassafras is known for its spicy aroma and use in herbal remedies and healing teas. Henry David Thoreau wrote:

I am always exhilarated, as were the early voyagers, by the sight of sassafras...The green leaves bruised have the fragrance of lemons and a thousand spices. To the same order belong cinnamon, cassia, camphor.

When scientists disovered that sassafras oil (extracted from the bark and roots contains a carcinogenic compound called safrole, the U.S. Food and Drug Administration banned it. Since safrole has not been detected in the sassfras leaves, spices such as filé are safe to use.

Greenish-yellow flowers give way to bluish drupes in September. The wood has a history of being used in cabinetry and handicrafts. The fruits are enjoyed by quail, wild turkey, kingbirds, crested flycatchers, mockingbirds, sapsuckers, yellowthroat warblers and phoebes, along with squirrels, rabbits, and even beavers. It is a host plant for the spicebush swallowtail (Papilio troilus) as well as the promethea silkmoth (Callosamia promethea). It offers high wildlife value and is relatively tolerant of deer!

Sassafras has a tendency to grow in thickets and is a great option for converting an abandoned edge into a beautiful landscape. It grows in full sun or light shade, though as an understory tree it would prefer the shadier end of that spectrum. Sassafras prefers moist, loamy, slightly acidic, well-drained soil, though it also tolerates dry, sandy soil. It normally grows to be 30 to 50 feet in height and spread. Sassafras has three distinctly shaped leaves: simple, 2-lobed (often described as a mitten), and 3-lobed. Sassafras also has a deep taproot, which can make transplanting difficult. If you are planning on planting one, transplant when young or get one that has grown in a container to avoid disturbing the taproot.

Whether you are interested in native plants, foraging, herbal healing, attracting wildlife, or creating a beautiful fall display, sassafras has a lot to offer.
Trees previously named Adkins Arboretum Native Tree of the Year include Liriodendron tulipifera (American tulip tree, 2011), Quercus alba (white oak, 2012), Magnolia virginiana (sweetbay magnolia, 2013), Fagus americana (American beech, 2014), Cercis canadensis (Eastern redbud, 2015), and Juniperus virginiana (Eastern red cedar, 2016).
Look for sassafras on our plant availability list posted on our website starting in March!
-Kathy Thornton, Land Steward