YARNSTORMING 2023
---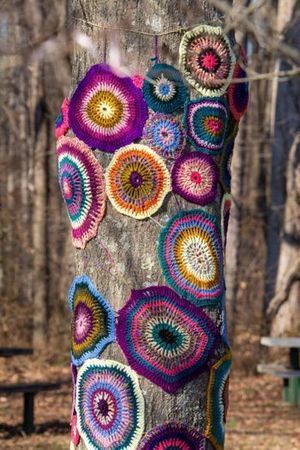 Yarnstorming is back! For the fourth year running, Adkins Arboretum is partnering with local yarn artists and the Fiber Arts Center of the Eastern Shore (FACES) to create a whimsical and exciting visual experience in the trees around the Arboretum Visitor's Center. The bright colors and whimsical designs will be on view March 5 through April 2, 2023.
Knitters and crocheters are invited to decorate an Arboretum tree with their creations. To participate and select your tree, contact Assistant Director Jenny Houghton at jhoughton@adkinsarboretum.org. 
We can't wait to see your creations! When planning your project, please adhere to the following guidelines:
For the health of our trees and wildlife, refrain from using glitter, wire, mesh, plastics, nails, or tacks.
 
All work must be safely reachable by an 8' ladder.
 
Installations should be in trees only and not extend to surrounding shrubs.
Yarn art may be installed Saturday, February 25 through Saturday, March 4. Operating hours are Tuesday–Saturday 10 a.m.–4 p.m. and Sunday noon–4 p.m. A reception for the event will be held Sunday, March 12 from 2 to 4 p.m. All work must remain on display through Sunday, April 2 and be removed by 4 p.m. on Sunday, April 9. Click here for a printable information flyer.