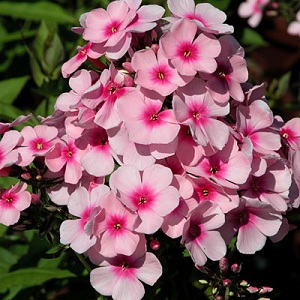 2017 Spring Open House & Native Plant Sale
April 28-30
Prepare for spring in the garden! The region's largest selection of ornamental native plants will be for sale, including a broad selection of flowering trees and shrubs, perennials, ferns, and grasses for spring planting. Ornamental native flowers and trees make colorful additions to home landscapes and provide food and habitat for wildlife. Experts will be available to answer questions, and Arboretum docents will be on hand to lead guided walks. The sale benefits the Arboretum's education programs and introduces the public to the beauty and benefit of gardening with native plants.
Presale orders will be accepted between March 26 and April 16. Click here to browse the spring plant sale site and to place an order.
HOURS
Friday, April 28: 2-7 p.m.
Light fare, fun and festive shopping, cash beer and wine bar beginning at 4 p.m., silent auction, drawing of the Native Table raffle winner at 6 p.m.
Saturday, April 29: 10 a.m.-4 p.m.
Live music by Driven Women, coffee, pastries for sale by Steve Konopelski of Turnbridge Point B & B
Sunday, April 30: noon-4 p.m.
Coffee, refreshments, fun shopping atmosphere!
________________________________________________________________________________
Following the Open House, plants will be for sale on the Visitor's Center patio throughout the growing season.
Members, including those who join on any sale day, receive a 10% discount on plants, and members at the Contributor ($100) level and above receive a 20% discount. Join or upgrade your membership to take advantage of this benefit.
Sale days are crowded, so please leave dogs at home. For additional information, call 410-634-2847 ext. 0, e-mail info@adkinsarboretum.org, or visit www.adkinsarboretum.org.
________________________________________________________________________________
At the Nursery
The Adkins Arboretum Native Plant Nursery has offered the Chesapeake Bay gardener the largest selection of ornamental native plants for more than 10 years.
For information about special orders, special pick-ups, help with plant choices for restoration projects, or pricing for nonprofits or commercial contractors, send email to nativeplants@adkinsarboretum.org. 
---
Rain Barrels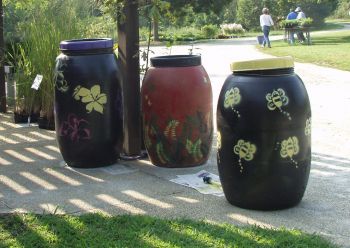 The Arboretum recycles heavy plastic barrels, previously used for food storage, to be used to collect and store rainwater for irrigation. The barrels come already retrofitted with hose attachments and screen lids to prevent mosquitoes from laying eggs and breeding. They are a fun way to conserve and store water, adding interest and beauty to the garden - especially when painted. Buy one already decorated, or decorate your own!
Unpainted barrels are $95; painted barrels are $120.
Note: Water collected in rain barrels is not to be used for drinking