Paw Paw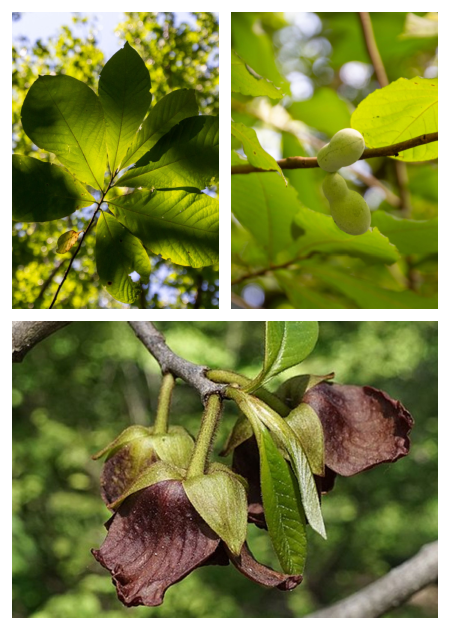 Scientific Name: Asimina triloba
Common Name: Paw paw, papaw, pawpaw, or paw-paw
Plant Family: Annonaceae (Custard apple family)
Etymology: The plant received this name from a Portuguese explorer who found Native Americans eating the fruit. Since the fruit resembled what he recognized as a papaya, they began to call it paw paw. "Min" in the genus derives from the Algonquin word for "fruit."
Parts Used: bark, fruit, leaves, stem 
Season: year-round
Indigenous Uses
The fruits of Asimina triloba were used for food. As a craft product, the inner bark was used for rope, string, and lacing. Splints were used for basketry and matting. The wood was used for firestarting for hand drills and fireboards as well as bow and drill. The leaves and stems were used for medicine.
Edible Parts
Wildlife and humans alike enjoy the sweet paw paw fruit. The fruit can be eaten raw, and it is also often used in puddings, custards, pies, and ice creams. The fruit ripens when it reaches a brown color, and the soft pulp inside can be scooped out and eaten, avoiding the large seeds inside.
Caution: Some people experience skin irritation handling paw paws, or digestive irritation and nausea, so be mindful of this the first time you encounter one. Long frozen storage and dehydration of paw paw fruit can concentrate the toxic effects. When freezing the pulp in freezer bags, be certain to remove all air pockets to prevent oxidation, which makes the fruit bitter.

---
This project was made possible by a grant from Maryland Humanities, with funding received from the Maryland Historical Trust in the Maryland Department of Planning. Maryland Humanities' Grants Program is also supported by the National Endowment for the Humanities and private funders. Any views, findings, conclusions, or recommendations expressed on this website do not necessarily represent those of Maryland Humanities, Maryland Historical Trust, Maryland Department of Planning, or National Endowment for the Humanities.