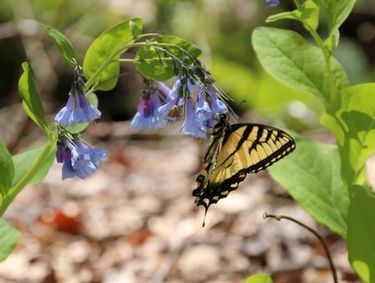 Native Landscape Design Center
---
Nature-Friendly Design Consult 
Exciting news! The Arboretum's Native Landscape Design Center is launching a new design service targeted to smaller areas.
Get instant help converting part of your landscape to a Nature-Friendly Yard! In a 90-minute smartphone or video call, our professional landscape designer, Christina Pax, will meet with you to devise beautiful, sound ideas for a targeted design area that you have selected ahead of time.The ideas will incorporate native plants, support river-friendly practices that clean and reduce runoff, and bring colorful support for pollinators and birds to your landscape. At the end of the meeting, you will have a plant shopping list and a sketch that shows you where to put those plants. The price for this service is $240, and it can be scheduled at your convenience.
For the first 10 who sign up, there is an added bonus thanks to a grant from ShoreRivers' River-Friendly Yards program: you'll receive up to 40% off your plant order of $500 or more! That's $200 off your $500 order of native plants from Adkins Native Plant sale! *Please note that $200 is the maximum discount.
Chris has been designing exclusively with native plants for 15 years. She holds a master's degree in sustainable landscape design from George Washington University and is founder of Annapolis Native Landscape Design. Recent projects include Baywise training programs for Master Gardeners and the production of a self-paced online course about gorgeous native ferns for garden settings. 
Email Chris to learn more or sign up.
---