Guided Walks
First Saturday Guided Walks
First Saturday of the month, 10 a.m.
2014 dates: January 4, February 1, March 1, April 5, May 3, June 7, July 5, August 2, September 6, October 4, November 1, December 6
Explore the Arboretum's diverse plant communities on a guided walk led by an Arboretum docent naturalist. Explore the bottomland forest and upland paths, meander through majestic beech trees, traverse the native meadows, and follow the narrow Tuckahoe Creekside path. Guided walks are free for members and free with admission for the general public. Tours begin at the Visitor's Center and last approximately one hour.
To schedule a guided walk for more than 10 participants, contact Adult Program Coordinator Ginna Tiernan at gtiernan@adkinsarboretum.org or 410-634-2847, ext. 27.
____________________________________________
Second Saturday Nursery Walks
Second Saturdays, April through October, 1 to 3 p.m.
Join horticulturalist Eric Wittman for a walk that explores the tremendous diversity of plant material at the Arboretum's Native Plant Nursery. Eric will select dozens of trees, shrubs, and perennials to aid visitors on their journey toward incorporating more native plants into their landscapes.
____________________________________________
Soup 'n Walks: Nature, Nurture, and Nutrition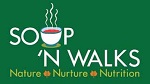 Special Soup 'n Walk programs may be scheduled for groups of 15 or more. Contact Ginna Tiernan, Adult Program Coordinator, at 410-634-2847, ext. 27 or gtiernan@adkinsarboretum.org.
____________________________________________
Guided Walks for Groups and Adkins Arboretum on the Road
Guided walks for groups of ten people or more can be scheduled in advance. The Arboretum offers five miles of well-maintained paths through forests, meadows, and wetlands. Walks available include the bottomland forest along the Blockston Branch, the Tuckahoe Valley Trail, the Tuckahoe Creekside path, the South Meadow and Nancy's Meadow, the native plant nursery, and the landscaped native gardens surrounding the Visitor's Center.
Adkins Arboretum on the Road, a community outreach program, is available to groups of ten or more people at offsite locations.
For more information, contact Ginna Tiernan, Coordinator of Adult Programs, at 410-634-2847, ext. 27 or gtiernan@adkinsarboretum.org