Gift Shop & Bookstore
Explore the Arboretum Gift Shop to find great gifts for gardeners, nature enthusiasts, children, and yourself!
Located in the Visitor's Center lobby, the shop recently underwent a transformation to offer a new look and new amenities. Café tables that overlook the meadow provide a welcoming spot for relaxing while children engage in preschool or homeschool programs. Coffee service and Wi-Fi are also offered. Stop by to browse the latest selection of jewelry, clothing, logo items, books, and nature-inspired gifts for all ages.
---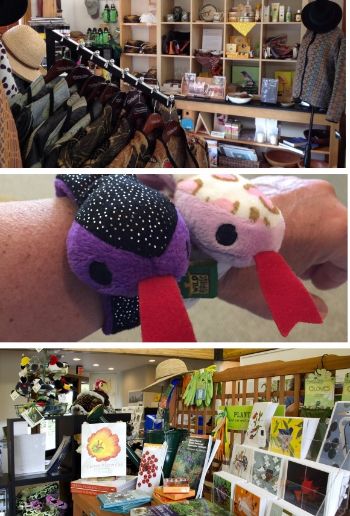 Now in stock:
* Eartha Handmade Tile - beautiful and brightly glazed terra cotta tile created by hand from an original design sculpted by Maryland artist Parran Collery. All of her work is inspired by nature.
* Adkins Arboretum tea towels, designed by artist Barbara Bryan and inspired by all things Adkins Arboretum!
* Fisticuffs bracelets, locally designed from recycled leather and inspired by nature
* Fairy garden components, including cottages, wildlife, and fairies. These make a perfect companion to a hypertufa pot.
* Bijou handcrafted organic goat milk soaps made locally by Brook Schumann. Scents include Crow Farm Red Wine, orange calendula, calico fields lavender, and mint.
* Warblers of North America, a new guide from Quick Reference Publishing. Includes easy field ID and distinguishing features for easy recognition.
* garden gloves and implements for adults and children
* a broad variety of jewelry, including selections by Eastern Shore artist Sue Stockman
* stunning wooden bowls by local turner Scott Beatty
* wildlife cards, puzzles, and stationery featuring whimsical nature designs by artist Charley Harper
* pottery, including selections by local artists Paul Aspell and Jean Higgins
* card designs by artist Laurel Sprenger
* Brazos carved walking sticks, made in America from native tree species
* Arboretum logo items, including mugs, shirts, fleece jackets, hats, dog bandannas, and T-shirts featuring the Arboretum's adorable goats, and images by artist Karen Klinedinst
* one-of-a-kind women's accessories crafted from recycled kimono silks by local fiber artist Stephanie Corina Goddard
---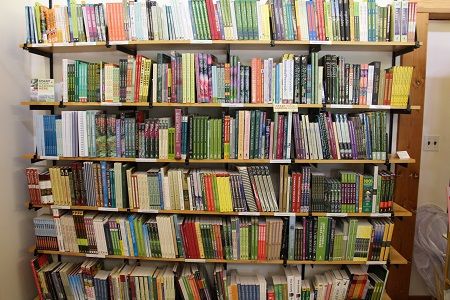 The Bookstore boasts a broad selection of books endorsed by the Arboretum Book Club. If you have already read Silent Spring by Rachel Carson or Sand County Almanac by Aldo Leopold, perhaps The Wild Trees by Richard Preston will go home in your bag. The Bookstore's shelves are filled with both hard- and softcover writings that are informative, imaginative, and memorable. And the Arboretum's list of Recommended Books for Gardeners makes shopping easy.

If you're unable to decide on a gift for that special someone, a gift membership fits all sizes. Arboretum memberships are available for both individuals and households and come with many perks—not the least of which is a great reason to return for another visit. Arboretum members receive a 10% discount on items purchased in the Gift Shop and Bookstore.