THE NEED FOR A NEW ARBORETUM CENTER
Today the Arboretum Visitor's Center includes one classroom that serves as an art gallery, boardroom, volunteer and staff workroom, children's classroom, community meeting room, and lecture hall. Without adequate facilities, these activities compete for space, limiting the size of the audience and the number of programs that can be offered.
The public's interest and demand for quality programs about ecology and native plants is expanding each year. Teachers are looking to the Arboretum for ecology and environmental curriculum programs and class trips. These increased demands have created the need to expand the Arboretum's facilities.
Additional facilities for educational programs will enable the Arboretum to reach a broader audience: children, families, amateur and professional horticulturists, natural resource managers, artists, photographers, and all lovers of the outdoors to serve our region as: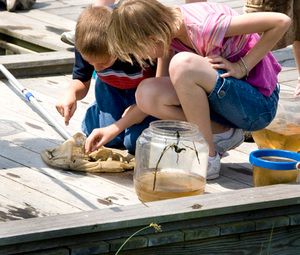 An educational center where thousands of children every year experience the natural world;

A place for all ages to learn about land stewardship, gardening with native plants, and promoting ecological restoration in our backyards, neighborhoods, and communities;

A community center where residents and visitors can celebrate the seasons, events, holidays, and the arts in the midst of native meadows, wetlands, and woodlands;

A destination for the touring public to discover what makes this region's natural heritage unique;

A place to enjoy lady-slippers in the late spring, ancient colonies of mountain laurel in early summer, fragrant native azaleas, and the natural succession from old field to mature hardwood forest;

A quiet sanctuary for observing and communing with nature in all seasons; and

An arboretum for and of our region that celebrates and protects our natural heritage.