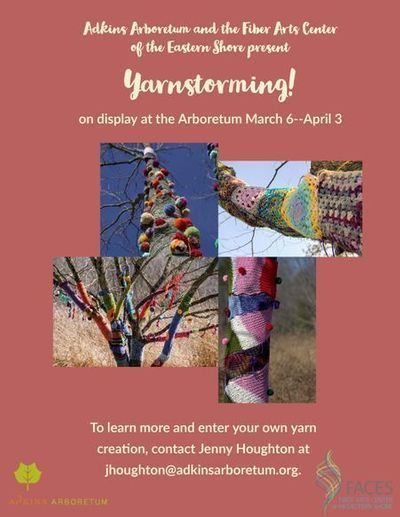 YARNSTORMING 2021
Also known as yarn bombing, guerrilla knitting, kniffiti, urban knitting, and graffiti knitting, yarnstorming is a street art that employs knitted or crocheted yarn in place of paint or chalk. 

In 2021, Adkins Arboretum and the Fiber Arts Center of the Eastern Shore (FACES) will partner to bring Yarnstorming to the Arboretum. Works will be exhibited March 6 through April 3. Knitters and crocheters are invited to decorate an Arboretum tree with their creations. 

Click here for Yarnstorming rules and regulations.

To learn more and to enter your own yarn creation, contact Jenny Houghton at jhoughton@adkinsarboretum.org.