INTERNATIONAL UNDERGROUND RAILROAD MONTH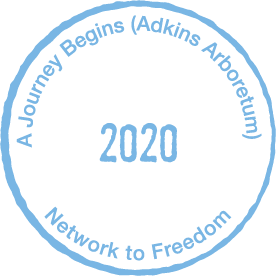 September is International Underground Railroad Month, a time to acknowledge the significance of the Underground Railroad, and all those involved, for its contribution to the eradication of slavery in the United States and as a cornerstone for a more comprehensive civil rights movement that followed. It honors the inspiring efforts of people from around the world who have committed themselves to document, interpret, and share with the public the history of the Underground Railroad.

The Arboretum is part of the National Underground Railroad Network to Freedom (NTF), which has partnered with the Passport to Your National Parks program to create virtual experiences and special virtual Passport stamps. Choose an experience or location to visit virtually (including the Arboretum's A Journey Begins audio tour), then download your Passport poster and virtual Passport stamps to track your progress. Click here or on the image above to download the Adkins Arboretum stamp.

The NTF aims to honor, preserve, and promote the history of resistance to enslavement through escape and flight, which continues to inspire people worldwide. Through its mission, the NTF helps to advance the idea that all human beings embrace the right to self-determination and freedom from oppression.

The program consists of sites with a verifiable connection to the Underground Railroad, educational and interpretive programs that pertain to the Underground Railroad, and research, educational, or interpretive centers. Currently, the network comprises more than 600 locations in 40 states, Washington, DC, and the U.S. Virgin Islands.