2019 Summer Nature Camps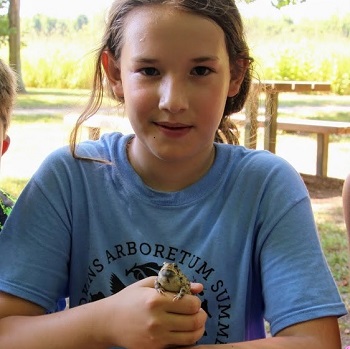 Adkins Arboretum's Summer Nature Camps give children the opportunity to enjoy their precious summer the old-fashioned way—outdoors! Campers will make new friends and lifelong memories while exploring the Arboretum's woodland, meadow, stream, and wetland habitats. From grazing on blackberries to splashing in the Blockston Branch, the Arboretum's Summer Nature Camps provide children with a truly enchanted experience.
Registration is underway! Space is limited, and advance registration is required. A $10 sibling discount is available. Register your young adventurer to grow with the Arboretum.
Camp Bumblebee (ages 2–3): June 17–21, 10–11:30 a.m.   
Camp Pollywog (ages 4–6): June 24–28, 10 a.m.–noon  FULL—call 410-634-2847 to be added to the waiting list, or check out Camp Pollywog II (see below)
Camp Paw Paw (ages 7–9): July 8–12, 9:30 a.m.–12:30 p.m.
Camp Egret (ages 10–12): July 15–19, 9 a.m.–3 p.m.

NEW THIS YEAR! Camp Pollywog II (ages 4–6): July 22–26, 10 a.m.–noon