Youth Programs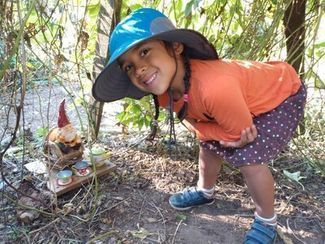 ---
---
Enter The Great Fairy House Challenge!
Create a home for fairies for a chance to win prizes. Awards will be given in the following categories: Golden Fairy, Most Magical, Simply Spellbinding, and Enchanted Excellence.

Entries are due Saturday, September 25 & Sunday, September 26 and will be displayed during Fairy Month, October 1–31. Please let Jenny Houghton know of your intention to participate by September 15. Contact Jenny by email or at 410-634-2847, ext. 23.

Click here for submission guidelines and entry form. 
---
The Arboretum offers programs that engage students of all ages with nature. Explore the links below for more information.
---
*** Registration in Fall 2021 preschool and homeschool programs acknowledges receipt of the Arboretum's COVID Policy. ***
---
Acorn Academy Nature Preschool Programs
Eight-week fall session runs Thursdays, September 16 to November 4. Click here for more information and to register.

Click here to access virtual preschool lessons to share with young nature lovers. 
---
Homeschool Programs
---
Birds, Bees, and Dandelion Seeds Virtual Field Trip
Designed for second-graders in Queen Anne's and Caroline County Public Schools and funded by the Gray Charitable Trust, this week-long unit focuses on pollinators, seed dispersal, and native bees. 
Activities include video clips from the Arboretum, games, experiments, songs, and a final project. Lessons are available for use by homeschool families, private schools, and the general public and are appropriate for students in grades one through four. Click here for the field trip unit.
---