The Arboretum offers programs that engage students of all ages with nature. Explore the links below for more information.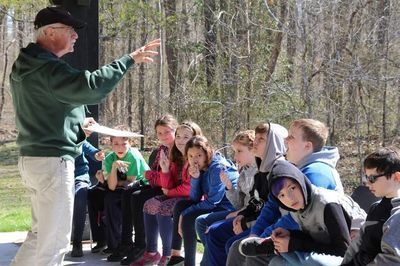 Acorn Academy Nature Preschool Programs
In-person preschool programs resume this spring! An eight-session series runs Friday mornings from April 9 to May 28. Enrollment is limited to 10 students. Advance registration is required, and all preschoolers and grown-ups must wear masks and practice social distancing. Click here to learn more.

Click here to access virtual preschool lessons to share with young nature lovers. 
---
Summer Camps
Summer Nature Camps are a go for 2021! Click here for info and to register.
---
Birds, Bees, and Dandelion Seeds Virtual Field Trip
Designed for second-graders in Queen Anne's and Caroline County Public Schools and funded by the Gray Charitable Trust, this week-long unit focuses on pollinators, seed dispersal, and native bees. 
Activities include video clips from the Arboretum, games, experiments, songs, and a final project. Lessons are available for use by homeschool families, private schools, and the general public and are appropriate for students in grades one through four. 

Click here to access the field trip unit.
---