Interdisciplinary Programs for School Groups
Native Plants, Native People
In this hands-on interdisciplinary program, students will explore the interrelationship between nature and the Native American tribes of Maryland. Activities include exploring Three Sisters Companion gardening and participating in a green corn dance at Emily's Play Garden, peeking inside model wigwams at First Light Village, examining Native American artifacts, and foraging for edible wildlife along scenic woodland paths (MSDE Social Studies Standards 2Ac, d, 5A2a; NGSS LS2C, ESS3C; Common Core Language Arts Standards RI1, RI3; MSDE Visual Arts Standards 2.0).
---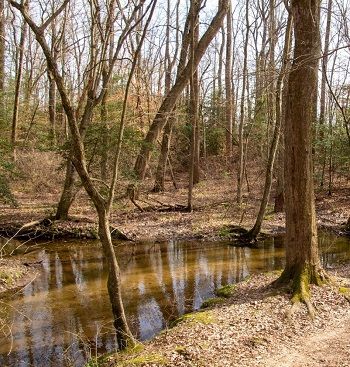 Nature's Story in the Underground Railroad
In this inspiring, hands-on program, students will explore the role of nature in the Underground Railroad. They'll attempt to forage for wild edibles in the forest, discuss quotes from actual freedom seekers, and gain firsthand insight into how fire was both necessary and dangerous. Students will also learn how those journeying north navigated by the stars and will observe moss growth to determine direction. They'll use natural camouflage as concealment, discuss the benefits and risks of waterways and wetlands to freedom seekers, and examine primary source images from Underground Railroad times (MSDE Standards for Social Studies 5C4a–c; 6D1c; Science 1A1b, f; 2D1a, b; 6B1a; Language Arts 1E1a; 2.1a ;Visual Arts 3.1a–c; 2.1a; Theatre Arts 3.2a; Music 2.1a; 2.2a–c).