The Arboretum hosts an ongoing exhibition series of artwork on natural themes by regional artists, as well as an annual juried show held in February and March of each year and an outdoor sculpture show during the summer. 
Art exhibitions are displayed in the Visitor's Center gallery.
---
Current Exhibit
---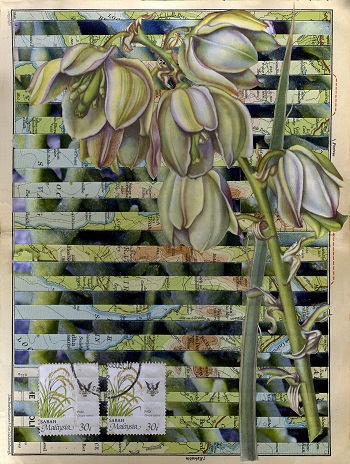 Susan Benarcik
Evidence of Meaning
April 2–May 31, 2019
Casually sketched and collaged with leaves, tendrils, and spiraling snail shells, there's a rich and delicate tenderness about Susan Benarcik's mixed media works on paper and small sculptures. This Wilmington artist is fascinated with the beauty and universality of growth patterns and how tenaciously nature adapts and flourishes, yet how vulnerable it is to adversity. In Evidence of Meaning, she weaves together a variety of mediums, including collage, gouache, encaustic, and found objects, to create lush and intricate musings on the intimate connections between humans and the environment. There will be a reception to meet the artist on Saturday, April 27 from 3 to 5 p.m.    mmmmmmmmmmmmmm
---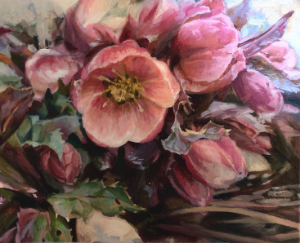 Centreville artist Lani Browning is known for her award-winning plein air landscapes, but her show Bloom, on view June 4 through July 26, reveals intimate expressions of her love of flowers. Browning's time spend observing flowers and "listening" to their stories has resulted in a collection of lush paintings that reflect a quiet elegance, soft tonal colors, and her classic and gentle vision—a perfect blend of flowers and art. There will be a reception to meet the artist on Saturday, June 22 from 3 to 5 p.m.
---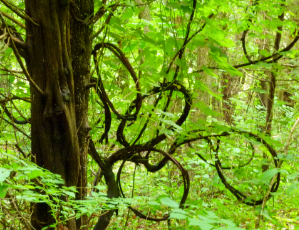 Every other spring since 1999, environmental artists Howard and Mary McCoy have roamed the Arboretum's forest on the lookout for what they like to call "invitations" to make art. Inspired by certain configurations of trees, vines or fallen branches, they create sculptures with natural materials they find in the forest. On view June 1 through September 30, this is their eleventh biennial outdoor sculpture show at the Arboretum. There will be a guided sculpture walk in conjunction with Lani Browning's reception on Saturday, June 22 from 3 to 5 p.m.
---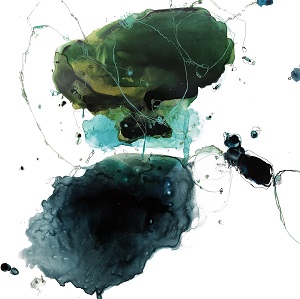 Sensuous and infectiously playful, Easton artist Alison Cooley's mixed media works are all about change and fleeting interactions. In her show, Tidal, on view July 30 through September 27, her offhand scribbles and pools of deep, seductive blues and greens evoke watery movement and shifting atmospheres. Working with acrylic ink, oil pastel, pencil, pen, and marker on yupo paper, a super-smooth, waterproof synthetic paper, she marries drawing and painting in deceptively casual dialogues between color and linework, texture and smoothness, tension and flow. There will be a reception to meet the artist on Saturday, August 10 from 3 to 5 p.m.
---
If you are an artist interested in exhibiting at Adkins Arboretum, please email 6-12 digital images of your work and a resume or letter of introduction to the attention of the Art Committee at info@adkinsarboretum.org, or mail this information to Adkins Arboretum, P.O. Box 100, Ridgely, MD 21660.
---
Performances

Forest Music - Thursday, June 6
Forest Music returns to the Arboretum with the NewBassoon Institute. Musicians from Chestertown's National Music Festival will present a unique improvisatory performance in the forest. These innovative musicians will repond to one another's playing in a music conversation that winds through the trees. A brief concert will follow at the Visitor's Center. Light refreshments served; cash wine and beer bar. Forest Music is free; donations are welcome. 

Advance registration is appreciated; click here to register.