The Arboretum hosts an ongoing exhibition series of artwork on natural themes by regional artists, as well as an annual juried show held in February and March of each year and an outdoor sculpture show during the summer. 
Art exhibitions are displayed in the Visitor's Center gallery.
---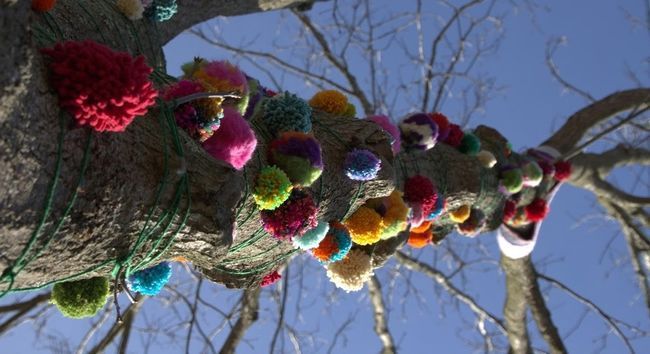 Yarn Storming 2020
Also known as yarn bombing, guerrilla knitting, kniffiti, urban knitting, and graffiti knitting, yarn storming is a street art that employs knitted or crocheted yarn in place of paint or chalk. Through early April, Arboretum trees are decked out in colorful and whimsical "sweaters" created by local yarn artists.

Artists and the public are invited to a reception on Sunday, March 8 from 2 to 4 p.m.

Yarn Storming is sponsored by Adkins Arboretum in partnership with the Fiber Arts Center of the Eastern Shore (FACES).

 
---
Current Exhibit
---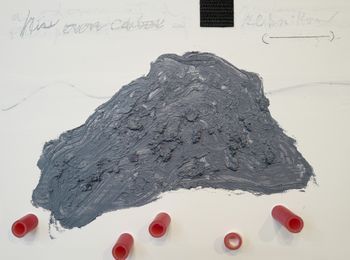 Discovering the Native Landscapes of Maryland's Eastern Shore
2020 Juried Art Show
February 4 through March 27, 2020

Now celebrating its 21st year, this annual show draws entries in a wide variety of mediums, from painting and sculpture to photography and crafts, by artists from the mid-Atlantic region and beyond. This year's juror, Heather Harvey, is an artist and Associate Professor of Art and Chair of the Department of Art and Art History at Washington College. She will discuss her choices for the show at a reception Saturday, February 8 from 3 to 5 p.m.
---
Upcoming
---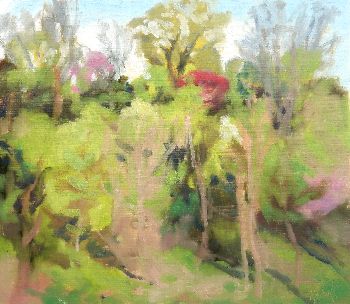 Julia Sutliff
With Julia Sutliff's small oil paintings, it's as if you're right there in the landscape. In her show, Swimming in Eden, on view March 31 through May 29, Sutliff presents plein air paintings so fresh and impressionistic that you can almost feel the spring breeze and sunlight or the autumn chill and dampness on your skin. Throughout the seasons, she searches out pockets of nature near her home in the sprawling suburbs north of Baltimore where she can immerse herself in the experience of being in nature. Painting with swift, playful strokes, she captures its colors, lighting, mood and movement. There will be a reception to meet the artist on Saturday, April 25 from 3 to 5 p.m.
---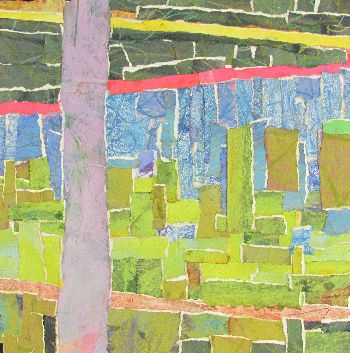 Sheryl Southwick

Sheryl Southwick's joyful torn paper collages shimmer with light and color. Her show, Local Color Reimagined, on view June 2 through July 31, offers a fascinating look into her artistic process. Southwick has chosen to present her collages side by side with the landscape paintings that inspired them. In these loosely brushed paintings, she captured the trees and water, farm fields and sunrises that became the basis for her collages. Although the paintings brim with color and energy, her collages are even more vibrant. Made from tiny strips of colored paper whose torn edges suggest glints of light, the collages dance with surprising textures and hues. There will be a reception to meet the artist on Saturday, June 27 from 3 to 5 p.m.
---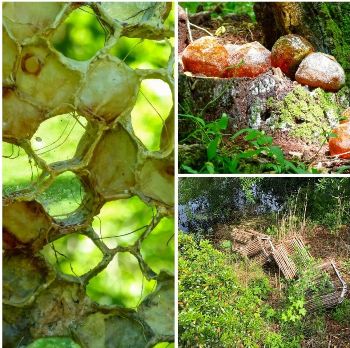 Outdoor Sculpture Invitational
Sculptures by artists hailing from around the mid-Atlantic region will be on view in the Outdoor Sculpture Invitational—Artists in Dialogue with Nature June 1 through September 30. During the spring, there will be opportunities to watch and talk with the artists as they create site-specific sculptures in the forest and meadow. Continuing a series inaugurated in 2002, this is the 10th biennial outdoor invitational of sculptures directly inspired by the Arboretum's varied landscapes and created on-site using primarily natural found materials. There will be a reception and guided sculpture walk Saturday, June 27 from 3 to 5 p.m. in conjunction with Sheryl Southwick's reception.
---
If you are an artist interested in exhibiting at Adkins Arboretum, please email 6–12 digital images of your work and a resume or letter of introduction to the attention of the Art Committee at info@adkinsarboretum.org, or mail this information to Adkins Arboretum, 12610 Eveland Road, Ridgely, MD 21660.