The Arboretum hosts an ongoing exhibition series of artwork on natural themes by regional artists, as well as an annual juried show held in February and March of each year and an outdoor sculpture show during the summer. 
Art exhibitions are displayed in the Visitor's Center gallery.
---
Current Exhibits
---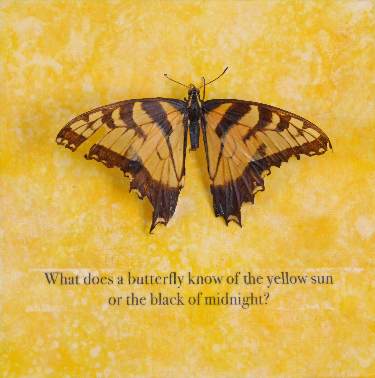 Mary McCoy
Listening
October 1–November 29, 2019
Environmental artist Mary McCoy is a firm believer in letting nature speak for itself. In Listening, natural materials including bones, pressed leaves, butterfly wings, and turtle shells mingle casually with poetry, pencil drawings, and colorful acrylic paint. Sometimes meditative, sometimes thought-provoking, and often comic, her works range from tiny panels to wall-sized sculptures. Familiar to many Arboretum visitors for the outdoor sculptures she creates in collaboration with her husband, Howard McCoy, in this gallery show, McCoy offers an intimate look at her encounters with nature on her riverside farm near Centreville. There will be a reception to meet the artist on Saturday, November 16 from 3 to 5 p.m.
---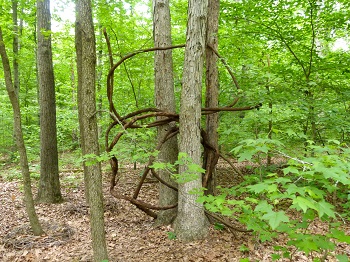 Howard and Mary McCoy
Wild Lines
June 1–November 30, 2019

Every other spring since 1999, environmental artists Howard and Mary McCoy have roamed the Arboretum's forest on the lookout for what they like to call "invitations" to make art. Inspired by certain configurations of trees, vines or fallen branches, they create sculptures with natural materials they find in the forest. This is their eleventh biennial outdoor sculpture show at the Arboretum.
---
Upcoming
---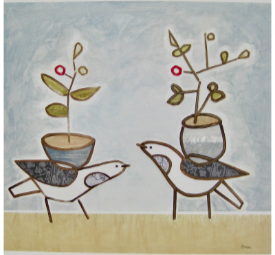 Jeremy Joseph
There's a playful innocence about the sprightly birds in Easton artist Jeremy Joseph's oil paintings. On view December 3 through January 31, his show, Winter Birds Dream of Summer, is full of stories begging to be imagined. Painted in wintry shades of the palest blue-grays accented with a few bright bits of color and touches of collage, these are highly simplified scenes, but they are warmed and made enticing by the curious things going on. Birds gesture like courtiers, hop in the air around a bare stick of a tree, or carry houseplants on their backs. These paintings are all about sparking the process of creative imagination, a talent Joseph has developed not only in his own artwork but as a longtime art teacher at Easton Elementary School. There will be a reception to meet the artist on Saturday, December 14 from 3 to 5 p.m.
---
If you are an artist interested in exhibiting at Adkins Arboretum, please email 6–12 digital images of your work and a resume or letter of introduction to the attention of the Art Committee at info@adkinsarboretum.org, or mail this information to Adkins Arboretum, 12610 Eveland Road, Ridgely, MD 21660.
---