The Arboretum hosts an ongoing exhibition series of artwork on natural themes by regional artists, as well as an annual juried show held in February and March of each year and an outdoor sculpture show during the summer. 
Art exhibitions are displayed in the Visitor's Center gallery.
---
Upcoming Exhibits
---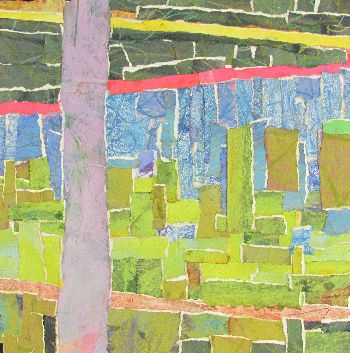 Sheryl Southwick

Sheryl Southwick's joyful torn paper collages shimmer with light and color. Her show, Local Color Reimagined, on view June 2 through July 31, offers a fascinating look into her artistic process. Southwick has chosen to present her collages side by side with the landscape paintings that inspired them. In these loosely brushed paintings, she captured the trees and water, farm fields and sunrises that became the basis for her collages. Although the paintings brim with color and energy, her collages are even more vibrant. Made from tiny strips of colored paper whose torn edges suggest glints of light, the collages dance with surprising textures and hues. There will be a reception to meet the artist on Saturday, June 27 from 3 to 5 p.m.
---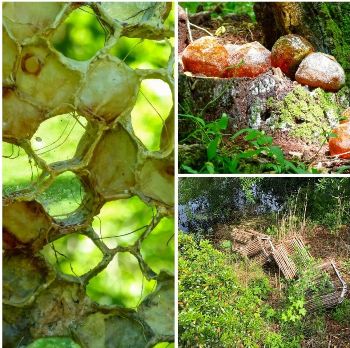 Outdoor Sculpture Invitational
Sculptures by artists hailing from around the mid-Atlantic region will be on view in the Outdoor Sculpture Invitational—Artists in Dialogue with Nature June 1 through September 30. During the spring, there will be opportunities to watch the artists as they create site-specific sculptures in the forest and meadow. Continuing a series inaugurated in 2002, this is the 10th biennial outdoor invitational of sculptures directly inspired by the Arboretum's varied landscapes and created on-site using primarily natural found materials. There will be a reception and guided sculpture walk Saturday, June 27 from 3 to 5 p.m. in conjunction with Sheryl Southwick's reception.
---
If you are an artist interested in exhibiting at Adkins Arboretum, please email 6–12 digital images of your work and a resume or letter of introduction to the attention of the Art Committee at info@adkinsarboretum.org, or mail this information to Adkins Arboretum, 12610 Eveland Road, Ridgely, MD 21660.
Header image: "Autumn, Tuckahoe Creek" by Karen Klinedinst