The Arboretum hosts an ongoing exhibition series of artwork on natural themes by regional artists, as well as an annual juried show held in February and March of each year and an outdoor sculpture show during the summer. 
---
2020 Virtual Exhibits
---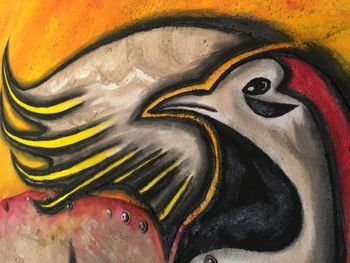 Rob Brownlee-Tomasso
Taking inspiration from architecture, history, and nature, as well as depicting highly stylized conceptual characters, Rob Brownlee-Tomasso creates texture studies done in mixed media. Often on irregularly shaped canvases and sometimes as multiple canvas installations, the acrylic medium or gesso is applied with a mixture of sand, earth, or other materials to achieve a coarse surface. It is common for earth to be taken from a specific location that is the subject matter of that particular work.
The main goals of his artistic expression are to find creative and dramatic subject matter that can work in conjunction with textured surfaces, and to complete compositions that are enhanced by these textures. The subject matter is an interpretation of a specific concept or theme that is inspiration of the piece.
Rob has participated in group and solo exhibitions in Maryland, Virginia, and New Jersey, and his work resides in several private collections. Please enjoy this collection virtually; we plan to showcase more of Rob's work in 2021 at the Visitor's Center.

View the exhibit here

Visit Rob's website
---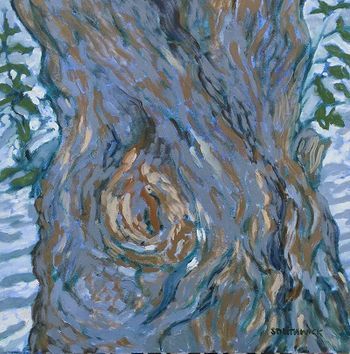 Sheryl Southwick

Sheryl Southwick's joyful torn paper collages shimmer with light and color. This show, titled Local Color Reimagined, offers a fascinating look into her artistic process. Southwick has chosen to present her collages along with the landscape paintings that inspired them. In these loosely brushed paintings, she captures the trees and water, farm fields, and sunrises that formed the basis for the collages. Although the paintings brim with color and energy, her collages are even more vibrant. Made from tiny strips of colored paper whose torn edges suggest glints of light, the collages dance with surprising textures and hues. Please enjoy this collection virtually; we plan to showcase more of Sheryl's work in 2021 at the Visitor's Center.

View the exhibit here

Visit Sheryl's website
---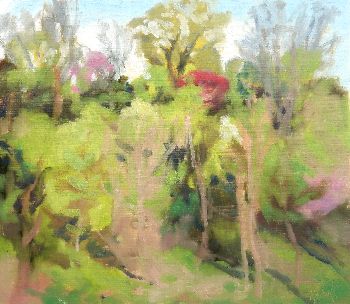 Julia Sutliff
With Julia Sutliff's small oil paintings, it's as if you're right there in the landscape. In this collection, titled Swimming in Eden, Sutliff presents plein air paintings so fresh and impressionistic that you can almost feel the spring breeze and sunlight or the autumn chill and dampness on your skin. Throughout the seasons, she searches out pockets of nature near her home in the sprawling suburbs north of Baltimore where she can immerse herself in the experience of being in nature. Painting with swift, playful strokes, she captures its colors, lighting, mood and movement. Please enjoy this collection virtually; we plan to showcase more of Julia's paintings at the Visitor's Center in 2021.

View the paintings here.

Click here for a price list. If interested in purchasing a piece, send email to info@adkinsarboretum.org.

Visit Julia's website
---
If you are an artist interested in exhibiting at Adkins Arboretum, please email 6–12 digital images of your work and a resume or letter of introduction to the attention of the Art Committee at info@adkinsarboretum.org, or mail this information to Adkins Arboretum, 12610 Eveland Road, Ridgely, MD 21660.
Header image: "Prime Hook" by Rob Brownlee-Tomasso (detail)