The Arboretum hosts an ongoing exhibition series of artwork on natural themes by regional artists, as well as an annual juried show held in February and March of each year and an outdoor sculpture show during the summer. 
Art exhibitions are displayed in the Visitor's Center gallery.
---
Current Exhibit
---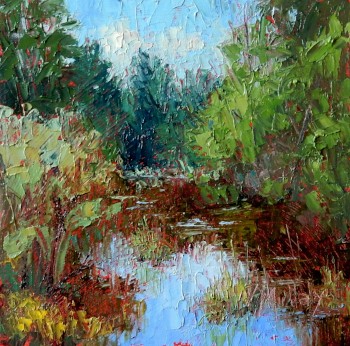 Diane DuBois Mullaly
Light and Life
October 2–December 1
At a mere six inches square, Diane DuBois Mullaly's plein air oil paintings are like tiny bursts of energy. For her show Light and Life, on view in the Visitor's Center October 2 through December 1, this Easton artist came to the Arboretum day after day throughout the year to paint outdoors, capturing intimate glimpses of its landscapes from its wetlands and nearby meadows to its forested paths. Her paintings are flooded with light and surprising color, and there's a palpable physical energy created by the brisk movement of her palette knife as she troweled the paint on, sometimes scraping it back, sometimes adding layers on top. There will be a reception to meet the artist on Saturday, October 20 from 3 to 5 p.m.
---
Upcoming Exhibits
Paige Billin-Frye
Small Worlds
December 4, 2018–February 2, 2019

Strikingly elegant, the seedpods and dried leaves and petals in Washington artist Paige Billin-Frye's photographs reveal and celebrate the end stages of the life cycle of individual plants. For this show, she printed gentle, sepia-toned close-up studies of fading botanical specimens onto softly textured paper. Some are digitally printed, while others use historical printing processes such as cyanotype or gum bichromate. Each image is a distinctive portrait of an individual plant, as well as a meditation on discovering the ravishing beauty of imperfection and decay. There will be a reception to meet the artist on Saturday, December 8 from 3 to 5 p.m.
---
Juried Art Show
February 5–March 29, 2019

The Arboretum's twentieth annual juried show, Discovering the Native Landscapes of Maryland's Eastern Shore, will be on view in February and March 2019. Click here for entry information.
---
If you are an artist interested in exhibiting at Adkins Arboretum, please email 6-12 digital images of your work and a resume or letter of introduction to the attention of the Art Committee at info@adkinsarboretum.org, or mail this information to Adkins Arboretum, P.O. Box 100, Ridgely, MD 21660.