The Arboretum hosts an ongoing exhibition series of artwork on natural themes by regional artists, as well as an annual juried show held in February and March of each year and an outdoor sculpture show during the summer. 
Art exhibitions are displayed in the Visitor's Center gallery.
---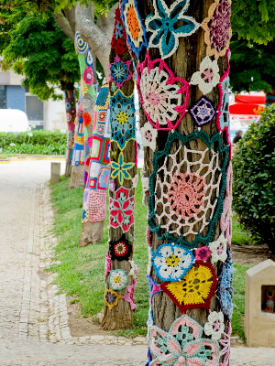 Yarn Storming 2020
Share your love of knitting or crochet by creating a whimsical "sweater" for an Arboretum tree! Yarn creations will be on display beginning Sunday, March 8, 2020. Artists and the public are invited to a reception on Sunday, March 8 from 2 to 4 p.m.

Click here for rules and a registration form.

Yarn Storming is sponsored by Adkins Arboretum in partnership with the Fiber Arts Center of the Eastern Shore (FACES).
---
Current Exhibit
---
Jeremy Joseph
Winter Birds Dream of Summer
December 3, 2019 through January 31, 2020

There's a playful innocence about the sprightly birds in Easton artist Jeremy Joseph's oil paintings. Painted in wintry shades of the palest blue-grays accented with a few bright bits of color and touches of collage, these are highly simplified scenes, but they are warmed and made enticing by the curious things going on. Birds gesture like courtiers, hop in the air around a bare stick of a tree, or carry houseplants on their backs. These paintings are all about sparking the process of creative imagination, a talent Joseph has developed not only in his own artwork but as a longtime art teacher at Easton Elementary School. There will be a reception to meet the artist on Saturday, December 14 from 3 to 5 p.m.
---
If you are an artist interested in exhibiting at Adkins Arboretum, please email 6–12 digital images of your work and a resume or letter of introduction to the attention of the Art Committee at info@adkinsarboretum.org, or mail this information to Adkins Arboretum, 12610 Eveland Road, Ridgely, MD 21660.
---