The Arboretum hosts an ongoing exhibition series of artwork on natural themes by regional artists, as well as an annual juried show held in February and March of each year and an outdoor sculpture show during the summer. 
Art exhibitions are displayed in the Visitor's Center gallery.
---
Current Exhibit
---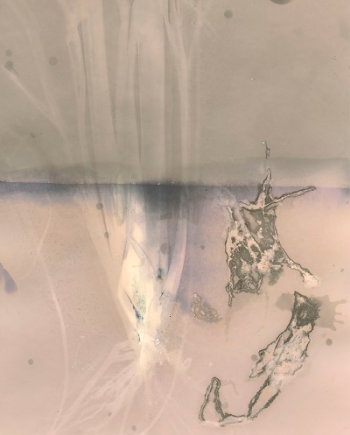 February 5–March 30, 2019
This annual show draws entries in a wide variety of mediums—from painting and sculpture to photography and crafts—by artists from the Mid-Atlantic region and beyond. This year's juror, Julie Wills, is an interdisciplinary artist and assistant professor of studio art at Washington College. She will discuss her choices for the show at a reception Saturday, February 16 from 3 to 5 p.m. 
---
Upcoming Exhibits
---
Susan Benarcik
Evidence of Meaning
April 2–May 31, 2019

Casually sketched and collaged with leaves, tendrils, and spiraling snail shells, there's a rich and delicate tenderness about Susan Benarcik's mixed media works on paper and her small sculptures on view April 2 through May 31. This Wilmington artist is fascinated with the beauty and universality of growth patterns and how tenaciously nature adapts and flourishes, yet how vulnerable it is to adversity. In her show Evidence of Meaning, she weaves together a variety of mediums, including collage, gouache, encaustic, and found objects, to create lush and intricate musings on the intimate connections between humans and the environment. There will be a reception to meet the artist on Saturday, April 27 from 3 to 5 p.m.
---
If you are an artist interested in exhibiting at Adkins Arboretum, please email 6-12 digital images of your work and a resume or letter of introduction to the attention of the Art Committee at info@adkinsarboretum.org, or mail this information to Adkins Arboretum, P.O. Box 100, Ridgely, MD 21660.