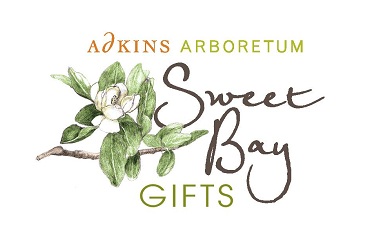 Explore Sweet Bay Gifts to find great gifts for gardeners, nature enthusiasts, children, and yourself!
Now in stock:
* women's Winding River jackets
* Moleskine Passion Journals
* garden gloves and implements for adults and children
* a broad variety of jewelry
* stunning wooden bowls by local turner Scott Beatty
* pottery, including selections by local artist Paul Aspell
* card designs by Centreville artist Laurel Sprenger
* Brazos carved walking sticks, made in America from native tree species
---
The Bookstore boasts a broad selection of books endorsed by the Arboretum Book Club. If you have already read Silent Spring by Rachel Carson or Sand County Almanac by Aldo Leopold, perhaps The Wild Trees by Richard Preston will go home in your bag. The Bookstore's shelves are filled with both hard- and softcover writings that are informative, imaginative, and memorable. And the Arboretum's list of Recommended Books for Gardeners makes shopping easy.
The Gift Shop has many offerings for visitors wishing for a keepsake of their peaceful ramble through the Arboretum grounds. How about an elegant coppery pin cast from a tulip tree leaf? Or one of countless plant books to help solve that problem spot in your garden? Arboretum patches for sewing onto just about anything are a great way to show your support! Plush bird toys that sing their own songs when squeezed are perfect for children of any age. If unable to decide on a gift for that special someone, a gift membership fits all sizes! Arboretum memberships are available for both individuals and families and come with many perks - not the least of which is a great reason to return for another visit.
Arboretum members receive a 10% discount on items purchased in the Gift Shop and Bookstore.