The Arboretum hosts an ongoing exhibition series of artwork on natural themes by regional artists, as well as an annual juried show held in February of each year and an outdoor sculpture show during the summer. 
Art exhibitions are displayed in the Visitor's Center gallery.
---
Current Exhibit
---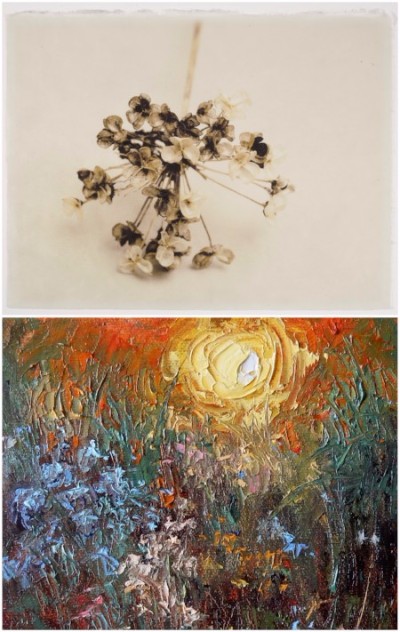 2017 Juried Art Show
Discovering the Native Landscapes of Maryland's Eastern Shore
January 31 - March 31, 2017
Playful, beautiful, zesty and often reverent, the artworks in Discovering the Native Landscapes of Maryland's Eastern Shore, the Arboretum's eighteenth annual Juried Art Show, speak about the remarkable variety of ways we look at nature on the Eastern Shore. This show also brings together a remarkable variety of mediums, including acrylic, oil, pastel, charcoal, collage, photography, monoprint, etching, ceramics, stained glass, metal sculpture and dried plant materials.

The show was juried by Katherine Markoski, Ph.D., Director of the Kohl Gallery and Lecturer in Art History at Washington College. Both she and the artists will be on hand for a reception from 3 to 5 p.m. on Sat., Feb. 11 to talk with visitors about the work in the show.
---
Upcoming Exhibit
---
The magic of momentary effects of light and atmosphere permeate Mark Muse's exquisite landscape photographs shot in Maryland, West Virginia, and Pennsylvania. For Muse, who lives in Shepherdstown, West Virginia, photography is an excuse for going out into nature and becoming immersed in its beauty. On view April 4 through June 2, his achingly beautiful images capture the soaring sweep of tree trunks, the intricacy of billowing leaves and grasses, and the vigor and fragility of bare branches spreading toward the sky. There will be a reception to meet the artist on Saturday, April 22 from 3 to 5 p.m.
---
If you are an artist interested in exhibiting at Adkins Arboretum, please email 6-12 digital images of your work and a resume or letter of introduction to the attention of the Art Committee at info@adkinsarboretum.org, or mail this information to Adkins Arboretum, P.O. Box 100, Ridgely, MD 21660.