Art Exhibits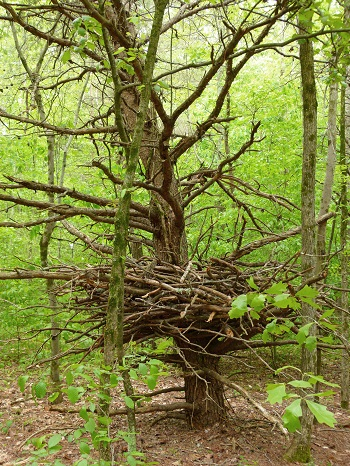 The Arboretum hosts an ongoing exhibition series of artwork on natural themes by regional artists, as well as an annual art competition held in February of each year and an outdoor sculpture show during the summer.
Art exhibitions are displayed in the Visitor's Center gallery.
Current Exhibits
Water: Moving
Peggy Fleming
June 2-July 31
Reception: Saturday, June 6, 3-5 p.m.
Peggy Fleming's show of abstract photographs of water explores the infinitely varied dance of light and shadow as water interacts with its surroundings. These close-up studies are filled with stunning color and intricate rhythmic patterns as water ripples and rushes over underwater plants and submerged pebbles or simply reflects the moon in the dark night sky. A filmmaker and photographer living in Washington, DC, Fleming deftly captures the exquisite momentary beauty of water shot in locations from the Potomac River to the Aegean Sea. Join Fleming for a showing of her film Potomac: The River Runs Through Us on Sunday, June 14.
Unnatural Nature
Outdoor Sculpture by Howard and Mary McCoy
June 1-September 30
Reception: Saturday, June 6, 3-5 p.m.
Throughout the spring, environmental artists Howard & Mary McCoy have worked in the Arboretum's forest creating sculptures from natural materials found on-site. Drawing their inspiration from the forest itself, these two Centreville artists see their work as a collaboration with nature. This is their ninth biennial outdoor sculpture show at the Arboretum.
---
Performances
Shore Shakespeare returns to the Arboretum with its 2015 production of The Comedy of Errors, a hilarious romp of family, jealousy, and mistaken identity. Long one of the Bard's most popular, and his first big hit, it was brilliantly adapted for Broadway as The Boys from Syracuse. Shakespeare combines sparkling wit, glorious language, and adventure to present a clever and popular comedy of human blindness, folly, romance, and suspense. Bring a chair or a blanket, drinks, and a picnic, and prepare to hang on!

Performances:
Friday, May 1, 6 p.m.
Saturday, May 2, 6 p.m.
Sunday, May 3, 3 p.m.
---
Learn about the Marion Price Art Gallery at Adkins Arboretum
---
If you are an artist interested in exhibiting at Adkins Arboretum, please email 6-12 digital images of your work and a resume or letter of introduction to the attention of the Art Committee at info@adkinsarboretum.org, or mail this information to Adkins Arboretum, P.O. Box 100, Ridgely, MD 21660.