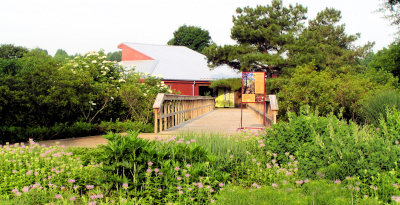 Begin your visit at the Arboretum Visitor's Center. Here staff will orient you to the Arboretum's site, providing maps of the grounds, brochures about what to see along the walks, information about what's in bloom, and the schedule for guided walks. You may watch the orientation video or borrow an audio tour here. Display racks feature literature about the Arboretum site and special programming. For further information about the availability of guided walks, call 410-634-2847, ext. 0 or e-mail info@adkinsarboretum.org.
Visitor's Center hours are 10 a.m. - 4 p.m. Tuesday through Saturday, noon - 4 p.m. Sunday, except Thanksgiving and Christmas. Admission is $5 for adults, $2 for students 6-18, and free for children 5 and under and Arboretum members.
___________________________________
Art Gallery/Meeting Room
The Visitor's Center meeting room houses art exhibitions throughout the year, and serves as a meeting room for various workshops, seminars, and meetings.
___________________________________
Sweet Bay Gifts
Sweet Bay Gifts is the perfect place to shop for unique nature-related gifts. Peruse a special collection of gifts, clothing, books, children's items, jewelry, handmade soaps, scarves, pottery, stationery, and birdhouses. Garden statuary, implements, and tools, including Felco pruners, are also available. Arboretum members receive a 10% discount on purchases, and 20% on the first Saturday of the month.
___________________________________
Plant Sale Area
A selection of native plants is available for purchase under the Visitor's Center pergola from May through November. Arboretum members receive a 10% discount on plants, and members at the Contributor level ($100) and above receive a 20% discount.
Native holiday greens are also displayed during the Arboretum's annual Holiday Wreath in December.
___________________________________
Nature Nook
In 2011, the Arboretum added a Nature Nook to the Visitor's Center. Designed as a cozy space for children to engage in creative nature play, the Nook includes a child-sized table and chairs, coloring pages, and nature puzzles. There are also stuffed animals and creepy crawlies, plus a basket of tree ring slices for busy builders.
___________________________________
Library
Visitors are invited to browse a collection of over 700 volumes of environmental, gardening, educational, and children's books in the Arboretum's library, located in the Visitor's Center lobby. Members have borrowing privileges and the general public is invited to browse.
CALLING ALL BOOKS!
In preparation for construction of the new Arboretum Center, library holdings are being inventoried and packed for storage. To assist in this effort, please return any books or other library materials to the Visitor's Center. Members are welcome to continue using materials at the Arboretum, but borrowing is suspended until the inventory is complete.
___________________________________
Comfort Facilities
The Visitor's Center offers restrooms and drinking water. A selection of juices and teas is for sale on the Visitor's Center patio, where there is seating under the shade of a pergola.
___________________________________
Staff Offices
Arboretum staff offices are located in the Visitor's Center and staff are available to help you plan an enjoyable and memorable visit.