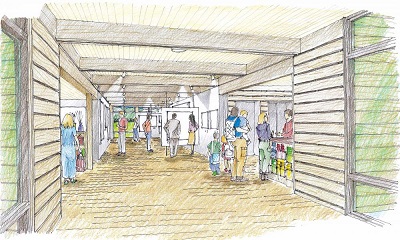 The Arboretum's Campaign to Build a Green Legacy will fund the renovation and expansion of the Visitor's Center. At an event held May 22, 2014 at the Arboretum, the project architect, Andrew Herdeg, a partner in the San Antonio architecture firm Lake|Flato, unveiled the new plans to a crowd of members and supporters.

At this presentation, Honorary Campaign Chair Peter Stifel talked about his commitment to the project and plans to put shovels in the ground in fall 2015. $3 million is needed to complete the project. These funds will come from a combination of state, federal, and private sources. The centerpiece of the new facility is the Marion Price Art Gallery that will be dedicated solely to the display of nature-inspired art. The Arboretum's current multipurpose room will be renovated to serve as a classroom and resource center.  

Click here to learn more about the Arboretum's Campaign to Build a Green Legacy, or contact Ellie Altman, Executive Director, at ealtman@adkinsarboretum.org.
Click here to read "Adkins Takes Big Step with New Facility," a piece by Kathy Bosin that appeared in the May 28, 2014 edition of the Chestertown Spy.