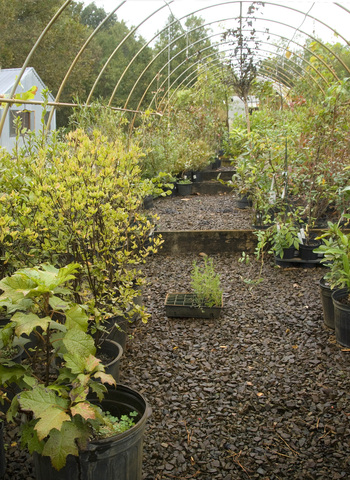 ---
2015 Native Plant Nursery Opening Weekend
April 24-26
The Native Plant Nursery Opening Weekend is April 24-26. Through April 12, members may place presale plant orders for pick-up during the Opening Weekend.
Click here to browse the plant catalog and to place an order.
Prepare for spring in the garden! The region's largest selection of ornamental native plants will be for sale, including a broad selection of flowering trees and shrubs, perennials, ferns, and grasses for spring planting. Ornamental native flowers and trees make colorful additions to home landscapes and provide food and habitat for wildlife. Master Gardeners will be available to answer questions, and Arboretum docents will be on hand to lead guided walks. The sale benefits the Arboretum's education programs and introduces the public to the beauty and benefit of gardening with native plants.
This spring the Opening Weekend will be held in the Visitor's Center front parking area. Following the sale, Nursery hours are 10 a.m. to 4 p.m., Tuesday through Friday, through October.
Members, including those who join on any sale day, receive a 10% discount on plants, and members at the Contributor ($100) level and above receive a 20% discount. Join or upgrade your membership to take advantage of this benefit.
Sale days are crowded, so please leave dogs at home. For additional information, call 410-634-2847 ext. 0, e-mail info@adkinsarboretum.org, or visit www.adkinsarboretum.org.
Members-Only Sale
Friday, April 24, 10 a.m.–4 p.m.
Shop the Members-Only Sale for the best selection. New members are welcome!
Public Sale Days
Saturday, April 25, 10 a.m.–4 p.m.
Sunday, April 26, noon–4 p.m.
Used Book Sale
The Arboretum is accepting donations of gardening and nature-themed books and magazines for a book sale during the plant sale. Donations may be dropped off at the Arboretum Tuesday through Saturday between 10 a.m. and 4 p.m. and Sunday from noon to 4 p.m. Shop for books and magazines at great prices on the sale days!
_____________________________________________________
The Native Plant Nursery Fall Open House will be held September 11-13.
---
Rain Barrels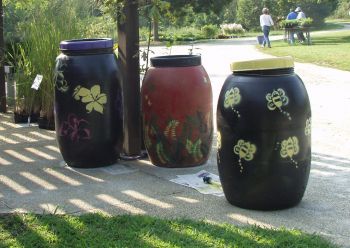 The Arboretum recycles heavy plastic barrels, previously used for food storage, to be used to collect and store rainwater for irrigation. The barrels come already retrofitted with hose attachments and screen lids to prevent mosquitoes from laying eggs and breeding. They are a fun way to conserve and store water, adding interest and beauty to the garden - especially when painted. Buy one already decorated, or decorate your own!
Unpainted barrels are $95; painted barrels are $120.
Note: Water collected in rain barrels is not to be used for drinking