The Arboretum hosts an ongoing exhibition series of artwork on natural themes by regional artists, as well as an annual juried show held in February and March of each year and an outdoor sculpture show during the summer. 
Art exhibitions are displayed in the Visitor's Center gallery.
---
Current Exhibit
---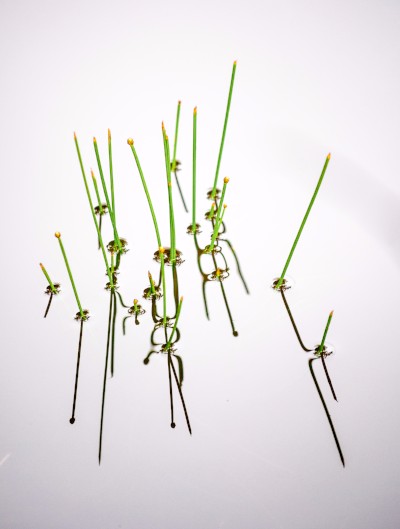 g
Lynn Teo Simarski
Emergent: Visual Sips from the Waterline
December 6, 2017-February 2, 2018
During the six years she lived aboard a boat on the Chesapeake and its tributaries, Alexandria photographer and writer Lynn Teo Simarski became fascinated with the delicate margins where water mingles with land. In Emergent: Visual Sips from the Waterline, she presents spare, exquisite images of wetland plants emerging from the water. The dance of their calligraphic gestures and crisp reflections is gently nuanced by the ever-changing effects of light, mirrored skies, turning tides, and shifting seasons. There will be a reception to meet the artist on Saturday, December 16 from 3 to 5 p.m.
---
Upcoming Exhibits
Celebrating the Arboretum's mission of conservation, the 2018 Juried Art Show, Discovering the Native Landscapes of Maryland's Eastern Shore, will be on view February 5 through March 30. Now in its nineteenth year, this annual show draws entries in a wide variety of mediums from painting and sculpture to photography and crafts by artists from the Mid-Atlantic region and beyond. This year's juror, Benjamin T. Simons, is director of the Academy Art Museum in Easton. He will discuss his choices for the show at a reception on Saturday, February 10 from 3 to 5 p.m.

Not a single bird stays still in Susan Hostetler's paintings, drawings and sculptures on view April 3 through June 1. Whether in flight, singing or craning their necks with curiosity as they perch, all her birds are caught in the midst of motion. This Bethesda artist has a fascination with birds and their habits, most particularly their adaptability to our changing climate. Mixing her mediums freely, she places two sculpted clay birds on a panel scribbled with graphite marks that mimic the pitches and rhythms of birdsong, paints a black egret stalking along amidst swirls of red and yellow leaves, and conjures a swooping flock by mounting dozens of clay birds directly on the wall. There will be a reception to meet the artist on Saturday, April 14 from 3 to 5 p.m.
---
If you are an artist interested in exhibiting at Adkins Arboretum, please email 6-12 digital images of your work and a resume or letter of introduction to the attention of the Art Committee at info@adkinsarboretum.org, or mail this information to Adkins Arboretum, P.O. Box 100, Ridgely, MD 21660.