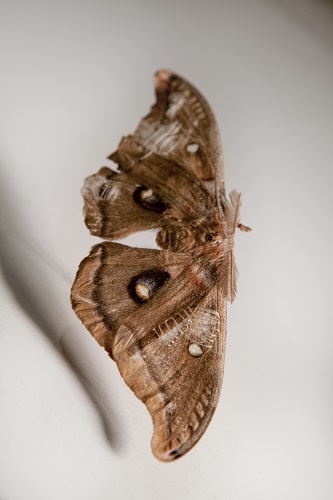 The Arboretum hosts an ongoing exhibition series of artwork on natural themes by regional artists, as well as an annual art competition held in February of each year and an outdoor sculpture show during the summer.
Art exhibitions are displayed in the Visitor's Center gallery.
Current Exhibit
Surface Treatments
Marian Glebes
April 1-May 30
Reception: Saturday, April 19, 3-5 p.m.
With a sense of childlike wonder, Baltimore artist Marian Glebes collects and preserves moths, dandelion seeds, and cicadas. In Surface Treatments, her found insects and mixed media works on paper are playful meditations on how we perceive nature and the absurdity of trying to hold onto its ephemeral beauty.
____________________
Upcoming Exhibits
Intimate Waterscapes: up-close and wet in an urban creek
Julius Kassovic
June 3-August 1
Reception: Saturday, June 21, 3-5 p.m.
Trees, skies, leaves, pebbles, grasses, and occasional junk combine to form phantasmagorical waterscapes with upside-down vistas, horizons askew, backgrounds as foregrounds, and lurid but beautiful reflections.
Seventh Biennial Outdoor Sculpture Invitational: Artists in Dialogue with the Landscape
June 1-September 15
Reception: Saturday, June 21, 3-5 p.m.
Inspired by particular sites in the Arboretum's forest and meadow, the artists will create work in close collaboration with the landscape. During May, there will be the opportunity to talk with the artists as they install their work on site.
Earth Matters
Fran Skiles
August 5-September 26
Reception: Saturday, August 16, 3-5 p.m.
Fran Skiles's abstract landscapes are born of the light, vegetation, and moist soil she finds in the natural environments of West Virginia and South Florida where she lives. In Earth Matters, she intuitively layers photography, paint, ink, pencil, embroidery, paper, and fabric to create work brimming with energy and nuance as brilliant color sings out against earth tones.
---
If you are an artist interested in exhibiting at Adkins Arboretum, please email 6-12 digital images of your work and a resume or letter of introduction to the attention of the Art Committee at info@adkinsarboretum.org, or mail this information to Adkins Arboretum, P.O. Box 100, Ridgely, MD 21660.
The Campaign for the Marion Price Art Gallery at Adkins Arboretum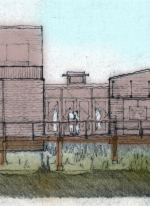 To address its commitment to celebrating and interpreting nature through art, the new Arboretum Center will include an art gallery dedicated to the memory of artist Marion Price. Marion initiated the art exhibit series at the Arboretum in 1998 and served as its curator until her death on August 19, 2005. She also contributed her sensitive drawings of native plants to illustrate the Arboretum's publications.
An artist, gardener, and gallery owner, Marion was a graduate of Brown University and studied art at the Corcoran School of Art and the Maryland Institute, College of Art.
Click below to donate to the Marion Price Art Gallery.
Learn more about the Campaign to Build a Green Legacy and the W. Flaccus and Ruth B. Stifel Center at Adkins Arboretum.