The Arboretum hosts an ongoing exhibition series of artwork on natural themes by regional artists, as well as an annual art competition held in February of each year and an outdoor sculpture show during the summer. 
Art exhibitions are displayed in the Visitor's Center gallery.
Current Exhibits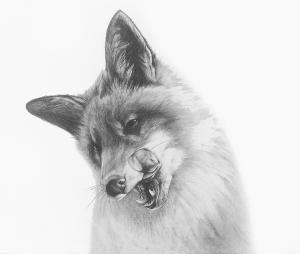 Rebecca Clark
Finite and Alive: New Drawings
August 4 to October 2
Rebecca Clark's foxes, deer and birds are so full of personality you can practically feel them thinking. Her show of new drawings, Finite and Alive, explores the wildlife of the Chesapeake Bay region in this time of environmental challenge. Known for her superb drawing skills, this Hyattsville artist has been fascinated with animals and plants since her childhood days in Annapolis. Including a series of exquisite renderings of oyster shells, this show is a captivating tribute to the intricate web of life in and around the Bay. There will be a reception on Saturday, August 15, 3–5 p.m.

Click here to read "Finite and Alive," an article on Clark's work by English art critic, curator, and editor Tom Jeffreys that appeared in the online magazine The Learned Pig.
Unnatural Nature
Outdoor Sculpture by Howard and Mary McCoy
June 1-September 30
Reception: Saturday, June 6, 3-5 p.m.
Throughout the spring, environmental artists Howard & Mary McCoy have worked in the Arboretum's forest creating sculptures from natural materials found on-site. Drawing their inspiration from the forest itself, these two Centreville artists see their work as a collaboration with nature. This is their ninth biennial outdoor sculpture show at the Arboretum.
---
Upcoming Exhibits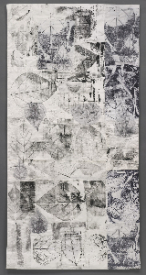 Dominie Nash
Leaf Impressions
October 6 to November 27
Bethesda artist Dominie Nash's beautifully nuanced art quilts call to mind delicate patterns of sunlight shining through leaves. In Leaf Impressions, Nash uses screen printing and direct rubbing techniques to print a variety of different leaves onto fabric that she then cuts, layers, and stitches. The delicate silhouettes of the leaves and intricate patterns of their veins create elegant compositions as dancing across the fabric. There will be a reception on Saturday, October 24, 3–5 p.m.
ddd
ddd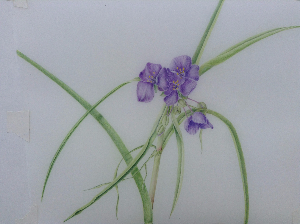 Adkins Arboretum Botanical Art students
The Art of Nature
December 1 to January 29
Focusing on plant diversity of the Eastern Shore, this show presents a range of botanical art from beginning drawings through advanced botanical art pieces. Working in a variety of mediums, students in the program learn to observe and accurately document native species. There will be a reception Saturday, December 5, 3–5 p.m.
ddddd
---
If you are an artist interested in exhibiting at Adkins Arboretum, please email 6-12 digital images of your work and a resume or letter of introduction to the attention of the Art Committee at info@adkinsarboretum.org, or mail this information to Adkins Arboretum, P.O. Box 100, Ridgely, MD 21660.