Art Exhibits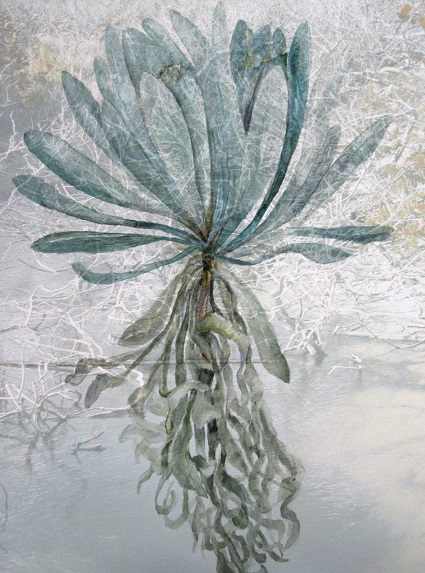 The Arboretum hosts an ongoing exhibition series of artwork on natural themes by regional artists, as well as an annual art competition held in February of each year and an outdoor sculpture show during the summer.
Art exhibitions are displayed in the Visitor's Center gallery.
Current Exhibit
Natural Pairings
Christine Neill & Lew Fifield
December 2-January 30
Reception: Saturday, December 6, 3-5 p.m.
Baltimore artists Christine Neill and Lew Fifield, a married couple who both teach at Maryland Institute College of Art, join forces to present Natural Pairings. Neill is well known for her lush mixed-media paintings and prints exploring the intricacies and ephemerality of the natural world, while Fifield uses digital photography and multi-dimensional paper layers to capture the patterns of nature in richly nuanced images that evoke memory and faraway landscapes. This show offers a unique opportunity to see how two artists working in close proximity influence one another as they interpret the natural world.
____________________
Upcoming Exhibits
2015 Art Competition Exhibit: Discovering the Native Landscapes of Maryland's Eastern Shore
February 3-March 27, 2015
Reception: Saturday, February 14, 3-5 p.m.
Entries are currently being accepted.
Quoting Nature
Erin Murphy
March 31-May 28, 2015
Reception: Saturday, April 18, 3-5 p.m.
Although abstract, Erin Murphy's drawings, monoprints, and paintings speak of atmospheric landscapes. The works in Quoting Nature are richly textured and full of subtle, glowing colors that suffuse them with haunting feelings of mystery and light. Currently living in Nashville, Tennessee, Murphy received her BFA from Maryland Institute College of Art and has recently returned from artist's residencies in Salem, New York, and Cape Town, South Africa.
---
If you are an artist interested in exhibiting at Adkins Arboretum, please email 6-12 digital images of your work and a resume or letter of introduction to the attention of the Art Committee at info@adkinsarboretum.org, or mail this information to Adkins Arboretum, P.O. Box 100, Ridgely, MD 21660.
---
Performances

Shore Shakespeare returns to the Arboretum with its 2015 production of The Comedy of Errors, a hilarious romp of family, jealousy, and mistaken identity. Long one of the Bard's most popular, and his first big hit, it was brilliantly adapted for Broadway as The Boys from Syracuse. Shakespeare combines sparkling wit, glorious language, and adventure to present a clever and popular comedy of human blindness, folly, romance, and suspense. Bring a chair or a blanket, drinks, and a picnic, and prepare to hang on!

Performances:
Friday, May 1, 6 p.m.
Saturday, May 2, 6 p.m.
Sunday, May 3, 3 p.m.
---
Learn about the Marion Price Art Gallery at Adkins Arboretum