The Arboretum hosts an ongoing exhibition series of artwork on natural themes by regional artists, as well as an annual juried show held in February of each year and an outdoor sculpture show during the summer. 
Art exhibitions are displayed in the Visitor's Center gallery.
Current Exhibit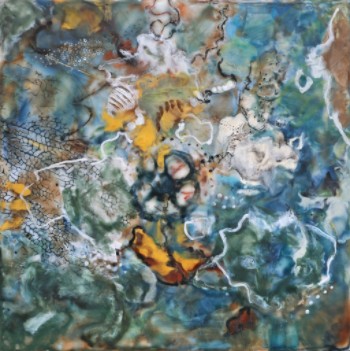 Marilyn Banner
Watermarks
April 5 to May 27
In her second show at Adkins Arboretum, encaustic painter Marilyn Banner explores the sea's shore. Her new paintings are just as lush and seductive as the landscapes she has become known for, but now she is lowering her gaze from the horizon to explore what is underfoot, just at the water's edge. Each of her works is layered with intricate textures and colors interwoven with traces of seaweed, shells, footprints and the marks left by tidal waters in the sand. There will be a reception to meet this Takoma Park artist and learn about her process of working on Saturday, April 30 from 3 to 5 p.m.

 
---
Upcoming Exhibits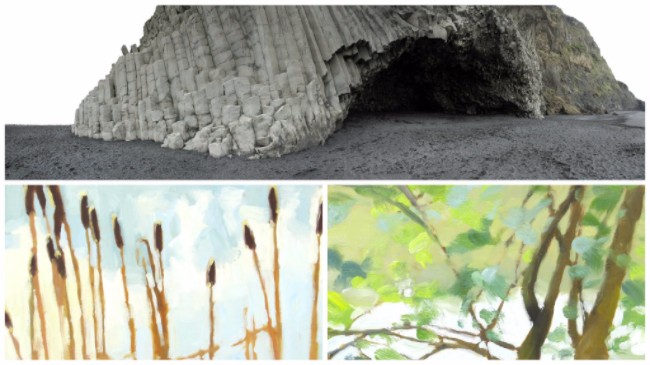 In large-scale landscape photographs shot during his travels to Maine, Iceland, and China, Baltimore artist John Ruppert's fascination with the effects of changing light, shifting atmospheres, moving water, and ever-evolving geological forces is unmistakable. On view May 31 through July 29, these superbly crafted photographs convey the powerful physical presence of these diverse and striking landscapes, yet they also have a curiously ephemeral quality. Each one captures an individual moment of change, a glimpse into earth's constant state of transformation. There will be a reception to meet the artist on Saturday, June 25 from 3 to 5 p.m.
The eight biennial Outdoor Sculpture Invitational—Artists in Dialogue with Nature will be on view June 6 through September 30. Inspired by particular sites in the Arboretum's forest and meadow, nine artists from the Mid-Atlantic region will create work in close collaboration with the landscape. During the last two weeks of May, there will be the opportunity to talk with the artists and watch as they install their work onsite. There will be a reception and a guided sculpture walk Saturday, June 25 from 3 to 5 p.m. in conjunction with John Ruppert's reception.
Plein air painter Julia Sutliff searches out natural landscapes wherever she can find them near her home north of Baltimore. Even in the sprawl of the city's suburbs, she discovers woods, ponds, streams, and fields and paints them onsite with fresh, energetic brushstrokes, capturing the light and energy of each landscape. In her third show at the Arboretum, Four Seasons, on view August 2 through September 30, Sutliff presents paintings that celebrate the natural landscape throughout its seasonal cycles. There will be a reception to meet the artist on Saturday, August 13 from 3 to 5 p.m.
---
Performances

Shore Shakespeare returns to the Arboretum to present Macbeth, one of the most riveting and fast-paced plays of all time. Join us under the trees to explore the darker side of the human soul as the title characters confront ambition, prophecy, temptation, and murder.

Performances
Friday, May 13, 7 p.m.
Saturday, May 14, 7 p.m.
Sunday, May 15, 3 p.m.
---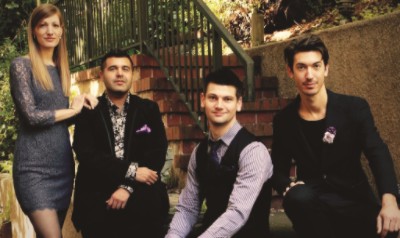 Forest Music
Friday, June 17, 4 p.m.
This program is free.
Mana Saxophone Quartet returns to the Arboretum for a unique improvisatory performance in the forest. These innovative musicians will respond to each other's playing in a musical conversation winding through the trees. A brief concert will follow at the Visitor's Center.
---
If you are an artist interested in exhibiting at Adkins Arboretum, please email 6-12 digital images of your work and a resume or letter of introduction to the attention of the Art Committee at info@adkinsarboretum.org, or mail this information to Adkins Arboretum, P.O. Box 100, Ridgely, MD 21660.