The Arboretum hosts an ongoing exhibition series of artwork on natural themes by regional artists, as well as an annual juried show held in February and March of each year and an outdoor sculpture show during the summer. 
Art exhibitions are displayed in the Visitor's Center gallery.
---
Current Exhibits
---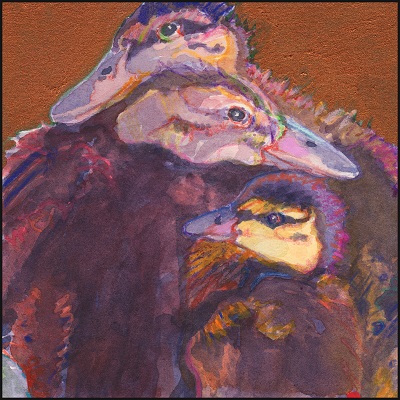 g
Kathryn O'Grady
Close to the Big Pond
August 1–September 29
Bursting with brilliant colors and exuberant texture, Kathryn O'Grady's landscapes and waterscapes are studies of the complexity of life in her lush, rural surroundings at Tracy's Landing in southern Anne Arundel County. In addition to her crayon and watercolor paintings, her show Close to the Big Pond, on view August 1 through September 29, includes several captivating portraits of individual birds accompanied by their personal stories deftly told by writer Peter Guttmacher. O'Grady appears courtesy of Steven Scott Gallery, Baltimore. There will be a reception to meet the artist on Saturday, August 12 from 3 to 5 p.m.
g
---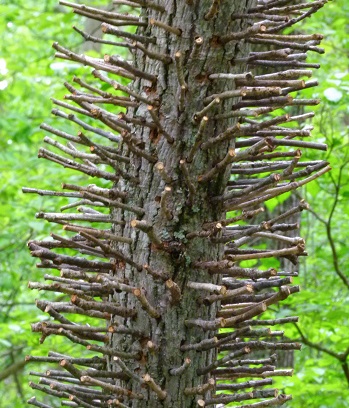 Howard & Mary McCoy
Suggestions
June 1–September 30

Throughout the spring, environmental artists Howard and Mary McCoy could often be found working in the Arboretum's forest creating sculptures from natural materials found on-site. Drawing their inspiration from the forest itself, these two Centreville artists see their work as a collaboration with nature. This is their tenth biennial outdoor sculpture show at the Arboretum. There will be a guided sculpture walk in conjunction with Elizabeth McCue's reception on Saturday, June 24 from 3 to 5 p.m.
---
Upcoming Exhibits
A powerful and mysterious energy runs through William Willis's work. In Presence and Place, his show of paintings and drawings on view October 3 through December 1, his compelling, semi-abstracted images pulse with a sense of primal awareness. Willis, who lives in Preston and often visits Tuckahoe State Park, loves to hike, bike, and camp, and he uses his direct encounters with nature as inspiration, paring images of trees and water, snakes and flying birds down to their bare essentials. Willis is a veteran of many solo museum and gallery shows, with work included in several museum and university collections. There will be a reception to meet the artist on Saturday, October 21 from 3 to 5 p.m.
During the six years she lived aboard a boat on the Chesapeake and its tributaries, Alexandria photographer and writer Lynn Teo Simarski became fascinated with the delicate margins where water mingles with land. In her show Emergent: Visual Sips from the Waterline, on view December 5 through February 2, she presents spare, exquisite images of wetland plants emerging from the water. The dance of their calligraphic gestures and crisp reflections is gently nuanced by the ever-changing effects of light, mirrored skies, turning tides, and shifting seasons. There will be a reception to meet the artist on Saturday, December 16 from 3 to 5 p.m.
---
If you are an artist interested in exhibiting at Adkins Arboretum, please email 6-12 digital images of your work and a resume or letter of introduction to the attention of the Art Committee at info@adkinsarboretum.org, or mail this information to Adkins Arboretum, P.O. Box 100, Ridgely, MD 21660.