The Arboretum hosts an ongoing exhibition series of artwork on natural themes by regional artists, as well as an annual juried show held in February of each year and an outdoor sculpture show during the summer. 
Art exhibitions are displayed in the Visitor's Center gallery.
Current Exhibit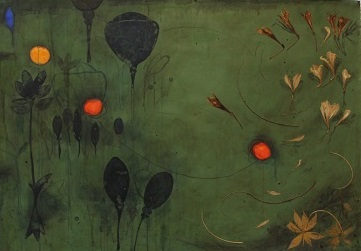 2016 Juried Art Show
Discovering the Native Landscapes of Maryland's Eastern Shore
February 2 to April 1

Celebrating the Arboretum's mission of conservation, this annual show is now in its seventeenth year. It draws entries in a wide variety of mediums by artists from the mid-Atlantic region and beyond. This year's juror, Anke Van Wagenberg, formerly of the National Gallery, the Walters Art Museum and Salisbury University, is senior curator at Easton's Academy Art Museum. There will be a reception Saturday, February 13 from 3 to 5 p.m.
---
Upcoming Exhibits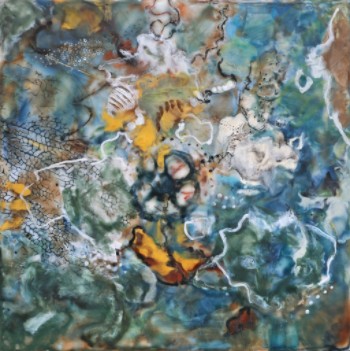 Marilyn Banner
Watermarks
April 5 to May 27
In her second show at Adkins Arboretum, encaustic painter Marilyn Banner explores the sea's shore. Her new paintings are just as lush and seductive as the landscapes she has become known for, but now she is lowering her gaze from the horizon to explore what is underfoot, just at the water's edge. Each of her works is layered with intricate textures and colors interwoven with traces of seaweed, shells, footprints and the marks left by tidal waters in the sand. There will be a reception to meet this Takoma Park artist and learn about her process of working on Saturday, April 30 from 3 to 5 p.m.

Photo: "Under Water" by Marilyn Banner
---
If you are an artist interested in exhibiting at Adkins Arboretum, please email 6-12 digital images of your work and a resume or letter of introduction to the attention of the Art Committee at info@adkinsarboretum.org, or mail this information to Adkins Arboretum, P.O. Box 100, Ridgely, MD 21660.