The Arboretum hosts an ongoing exhibition series of artwork on natural themes by regional artists, as well as an annual juried show held in February of each year and an outdoor sculpture show during the summer. 
Art exhibitions are displayed in the Visitor's Center gallery.
---
Current Exhibit
---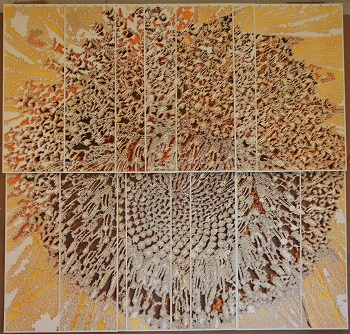 Blake M. Conroy
Garden Abstractions
October 4–November 25

There's a double sense of wonder in Baltimore artist Blake M. Conroy's laser-cut images of insects and flowers. In Garden Abstractions, the first thing you notice is the sheer beauty and complexity of a sunflower's complicated whorls of seeds and the delicate patterning of a butterfly's markings. Then you realize that these breathtakingly intricate "drawings" are actually cut from many layers of plain white paper. From a distance, they are easily recognizable, but close-up, they dissolve into frail, abstract webs of paper and holes. There will be a reception to meet the artist on Saturday, October 15 from 3 to 5 p.m.
---
Upcoming Exhibit
---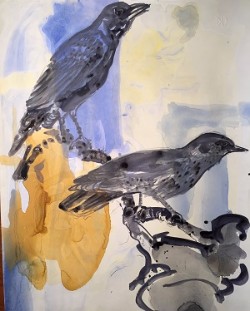 Few artists paint birds as spirited and full of character as Kevin Garber's. On view November 29 through January 27, the watercolors, stone lithographs and mono prints in Bird Chronicles are loosely sketched and brushed with colorful washes, yet they are also full of curiously precise details that clearly identify each species. A master printmaker, Garber lives in Bozman in Talbot County and has been drawing and painting birds for more than forty years. His casual style belies his skill in capturing their animated stances and individual personalities. There will be a reception to meet the artist on Saturday, December 3 from 3 to 5 p.m.
 
---
If you are an artist interested in exhibiting at Adkins Arboretum, please email 6-12 digital images of your work and a resume or letter of introduction to the attention of the Art Committee at info@adkinsarboretum.org, or mail this information to Adkins Arboretum, P.O. Box 100, Ridgely, MD 21660.