NATIVE TREE OF THE YEAR
Adkins Arboretum's Native Tree of the Year Program highlights the ecological and
ornamental value of native trees to promote their protection in natural areas and
use in cultivated landscapes.
2016 Native Tree of the Year: Eastern Red Cedar (Juniperus virginiana)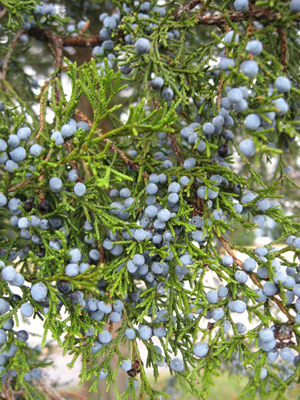 The Adkins Arboretum 2016 Native Tree of the Year is the eastern red cedar (Juniperus virginiana), a ubiquitous tree on the eastern shore. Many find this conifer common or weedy, but those who have come to appreciate it for the privacy it gives, the beautiful dusky blue berries that feed birds through the winter, or the shelter it offers birds and other wildlife behind its evergreen boughs think differently. The wood is often used for fencing because of its resistance to rot and is valued by woodworkers for its beauty and workability. It is also the source of cedarwood oil used in fragrances.
I 're-discovered' this tree on a trip to the Highline in New York City a few years ago. There, along the ghostly tracks, was the most magnificent evergreen, heavily laden with glaucus berries. It was the cultivar 'Corcorcor' (Emerald Sentinel). Since then, I've made sure that the Native Plant Nursery is always stocked. It's quite a bit smaller than the straight species, making it a more desirous landscape plant that grows only 15'-40' tall and quite a bit narrower, as opposed to 60' tall. Juniper is one of the easiest grown plants. It tolerates the Eastern Shore's sandy and clay soils, and deer leave it alone. It is a dioecious plant, meaning that there are both male and female plants, so only the females fruit.
Trees previously named Adkins Arboretum Native Tree of the Year include Liriodendron tulipifera (American tulip tree, 2011), Quercus alba (white oak, 2012), Magnolia virginiana (sweetbay magnolia, 2013), Fagus americana (American beech, 2014), and Cercis canadensis (eastern redbud, 2015). 

by Joanne Healey, Nursery Manager