NATIVE TREE OF THE YEAR
Adkins Arboretum's Native Tree of the Year Program highlights the ecological and
ornamental value of native trees to promote their protection in natural areas and
use in cultivated landscapes.
2013 Native Tree of the Year: sweetbay magnolia (Magnolia virginiana)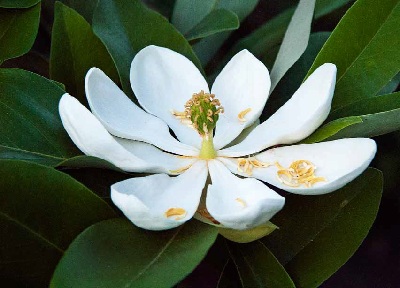 The sweetbay magnolia (Magnolia virginiana), chosen as the Adkins Arboretum 2013 Native Tree of the Year, is a tree from a family with an ancient history going back over 100 million years—back to the time when the Arctic Circle was filled with trees and before bees evolved to pollinate flowering plant. After many geologic periods and the ice caps expanded, the magnolias were wiped from the European continent by glaciers. Asia and the Americas were spared, resulting in 219 species in seven genera.
The range of the sweetbay magnolia is western Massachusetts, Long Island, and Pennsylvania to Florida and west to Texas. A small, deciduous tree, the sweetbay can grow to 50 feet tall, but 15–30 feet is more the norm. It is a Coastal Plain native and loves the water—wet woods and edges of swamps. It is usually a multi-stemmed plant with a medium to fast rate of growth. The flowers—large, white, and slightly lemon-scented—bloom in May and June, giving way to seedpods with bright red seeds in fall.
Magnolias hold little in the way of commercial value. The wood has been used for furniture, broom handles, and utensils. In a horticultural context, the sweetbay is popular not only for its bloom, small size, and tolerance of wet conditions but because it is deer resistant. Additionally, tiger swallowtails (Papilio glaucus) use Magnolia virginiana as a host plant for their caterpillars.
The bark and fruit of the sweetbay magnolia have been brewed to make teas for a number of conditions. Soaking the bark in brandy to create a cough medicine was widely practiced. Magnolia bark has also been used as a substitute for quinine in the treatment of malaria. Years ago, the stems and roots were used as a mild diaphoretic to promote sweating, as a laxative, a tonic (an old-time term for "mild stimulant"), and to treat rheumatism and swelling.
Many sweetbay magnolias are found on the Arboretum grounds, and you will find all of them near water. The most easily identifiable are the ones in Visitor's Center wetland. The sweetbay is a great example of a coastal native, and the Arboretum staff is excited to highlight it in the year to come. In June, artist and painter Lee D'zmura will hold a series of painting classes focusing on the magnolia flower. Magnolia virginiana will also be highlighted in the eight gardens featured in the Arboretum's Native Garden Tour on May 11.