NATIVE TREE OF THE YEAR
Adkins Arboretum's Native Tree of the Year Program highlights the ecological and
ornamental value of native trees to promote their protection in natural areas and
use in cultivated landscapes.
2015 Native Tree of the Year: Eastern redbud (Cercis canadensis)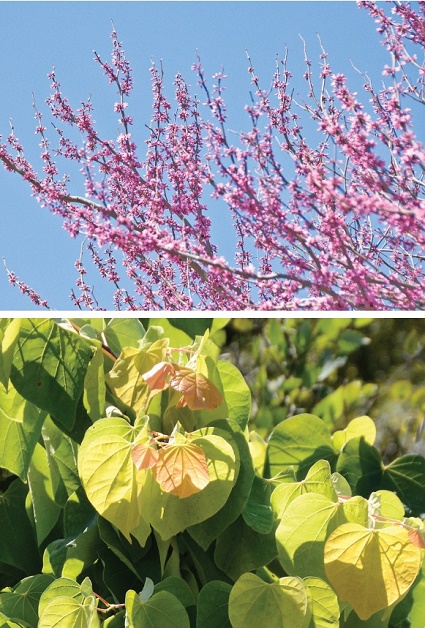 The redbud (Cercis canadensis) doesn't reach great heights or girth or have much history in the way of human commerce, but it is one of those special trees that heralds spring in the Mid-Atlantic. It has seamlessly bridged the gap between the woods and the garden, making its way into horticultural rankings thanks to George Washington and Thomas Jefferson, both of whom couldn't plant enough redbuds on their Virginia estates. This popular native tree has been named Adkins Arboretum's Native Tree of the Year for 2015.
The common name "redbud" is a bit of a misnomer. It is in no way red. As Kenneth R. Robertson wrote in 1976 for Arnoldia, the publication of the Arnold Arboretum, "Whoever coined the common name 'redbud' must surely have been colorblind, but 'redbud' is certainly more euphonious than 'magentabud.'" In bloom for a two- to three-week show when the woods are still bare, its early, truly lavender flowers provide an important and early nectar source for pollinators. Cercis is part of the pea family (Fabaceae), yet it is an exception to the rule because it is not a nitrogen-fixing plant. 
Typically reaching 20 to 30 feet tall and up to 20 feet wide, redbud is found in woods as an understory small tree or multi-stemmed shrub growing in part sun to full sun. Its native range spans from New Jersey to mid-central Florida and west to Oklahoma. Redbud is tolerant of many soil types yet does best in moist, well-drained sites that are not wet. It thrives in the clay soils prevalent on the Eastern Shore and is also deer 'resistant' and black walnut tolerant. 
One of the redbud's most notable features is its heart-shaped leaves. This highly glossy foliage emerges after the tree has flowered, maturing to a dull green in summer and then to a yellow fall color. Many cultivated varieties of redbud are commercially available, most notably Cercis Canadensis 'Forest Pansy' with its purple foliage. 'The Rising Sun' also has exceptional spring foliage ranging from apricot to soft golden yellow. There are weeping varieties, such as 'Covey' and 'Lavender Twist', and different varieties of colors from white to lavender-red.
The name Cercis comes from the Greek word kerkis, in reference to the seedpod that looks like a weaver's shuttle. Flower blossoms can be eaten or the buds pickled. Bark of the redbud can be made into an astringent tea for the treatment of different ailments. Birds, squirrels, and deer feed on the seeds. 
Trees previously named Adkins Arboretum Native Tree of the Year include Liriodendron tulipifera (American tulip tree, 2011), Quercus alba (white oak, 2012), Magnolia virginiana (sweetbay magnolia, 2013), and Fagus americana (American beech, 2014). These noteworthy trees, as well as this year's esteemed redbud, will be available for sale at the Arboretum's Native Plant Nursery Spring Opening Weekend, April 24–26.