Why Use Natives?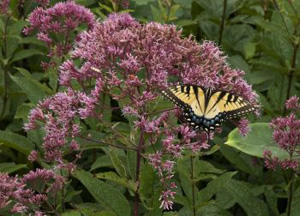 Before the settlers, before the explorers, the Chesapeake region's landscape was filled with oaks and sassafras, grasses like switchgrass, hibiscus that filled the wetlands, and goldenrods that graced the meadows. Those 'native' plants thrived because they were particularly adapted to an area. In addition, the insects, birds, and wildlife depended on those plants for survival.
As stewards of our landscape, we have an obligation to curb the use of non-native species of plants. Non-natives can be invasive and can choke out natural fauna. They reduce the genetic diversity of the native plant community, and more often than not they do not provide food for the local wildlife.
The Nursery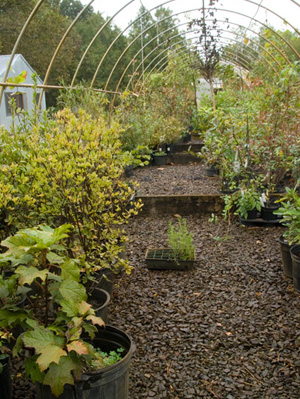 The Adkins Arboretum Native Plant Nursery boasts the area's largest selection of ornamental native plants for the Chesapeake Bay gardener since 1985. The Nursery carries an extensive selection of trees and shrubs, perennials, grasses, ferns, and vines. Some of the plants grown at the Nursery are propagated and grown from locally collected seeds and cuttings.
A dedicated group of volunteers and interns works with the Arboretum staff to maintain the Nursery. The Nursery has four coldframes and a propagation greenhouse, totaling about 6,000 square feet of growing space. The Nursery is expanding to incorporate several gardens to display plants and collect seeds and cuttings. Three new composting beds help recycle some of the organic matter generated from the Nursery, grounds, gardens, and buildings.
The Arboretum's Native Plant Nursery is open Tuesday through Friday from 10 a.m. to 4 p.m., mid-April through October. Click here to view a list of available plants.
For more information or to volunteer at the Nursery, call 410.634.2847, ext. 0.
---
USDA Plant Hardiness Zone Map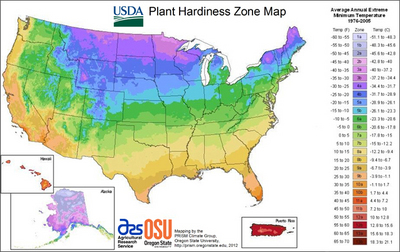 In 2012, the USDA revised its Plant Hardiness Zone Map for the United States--the first revision in more than 20 years. Click here to view the updated interactive map.