Why Plant Natives?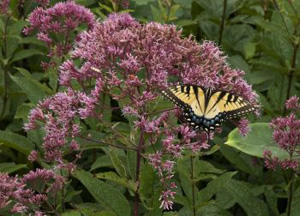 Native plants of this region have evolved together with insects, birds, mammals, and other wildlife since the last ice age more than 10,000 years ago. They have adapted to the region's climate and soils from wet clay soils to well drained sandy soils. While many of these plants are ornamental, they are also a source of food and shelter for animals. Native plants thrive in the diverse habitats of the region, woodlands, meadows, wetlands, uplands and lowlands.
In addition, as stewards of our native landscape, we plant native plants to contribute to the ecological health of the region, to prevent erosion, to support pollinators, to sequester carbon, for clean water, air and stable productive soils. Planting native plants and minimizing the use of nonnative plants encourages genetic diversity, which is important to sustaining the ecosystem and the air we breathe.
The Nursery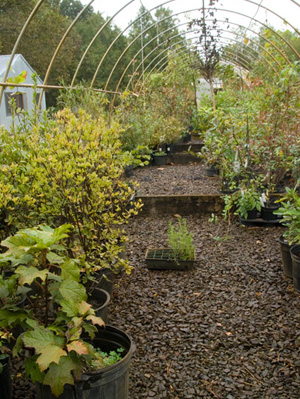 The Native Plant Nursery is open for the season! Click here for a list of current availability (updated July 16, 2014)
The Adkins Arboretum Native Plant Nursery boasts the area's largest selection of ornamental native plants for the Chesapeake Bay gardener since 1985. The Nursery carries an extensive selection of trees and shrubs, perennials, grasses, ferns, and vines. Some of the plants grown at the Nursery are propagated and grown from locally collected seeds and cuttings. A dedicated group of volunteers and interns works with the Arboretum staff to maintain the Nursery.

Through August 31, members may place presale plant orders for pickup during the Native Plant Nursery Open House weekend, September 12-14. Click here to browse plants for sale, place an order, and be guaranteed the best selection!
The Nursery has four coldframes and a propagation greenhouse, totaling about 6,000 square feet of growing space. The Nursery is expanding to incorporate several gardens to display plants and collect seeds and cuttings. Three new composting beds help recycle some of the organic matter generated from the Nursery, grounds, gardens, and buildings. The Arboretum's Native Plant Nursery is open Tuesday through Friday from 10 a.m. to 4 p.m., mid-April through October. For more information or to volunteer at the Nursery, call 410.634.2847, ext. 0.
---
USDA Plant Hardiness Zone Map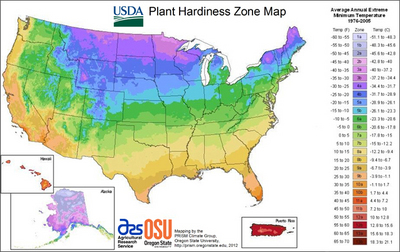 In 2012, the USDA revised its Plant Hardiness Zone Map for the United States--the first revision in more than 20 years. Click here to view the updated interactive map.